The Hancock-Henderson Quill, Inc.
---
June Galbraith Inducted Into The BWBA Hall Of Fame
By Susan Galbraith, The Quill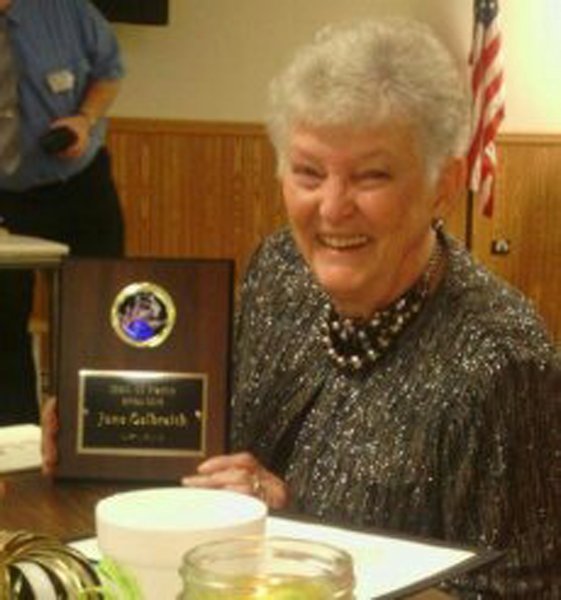 June Galbraith, rural Gladstone, has been inducted into the BWBA (Bowling Women's Bowling Assoc.) Hall Of Fame. At the BWBA Annual Hall of Fame Dinner & Awards Banquet, inductees are announced and awarded a plaque for their outstanding accomplishments, which are selected from their awards, tournaments, offices held, etc.
The BWBA, along with the Burlington men and youth associations, are sanctioned under the United States Bowling Congress (USBC).
June has held several offices in her 52 years of bowling. In 1961 she began league bowling in Oquawka and Burlington, Iowa at Madison Lanes.
From 1971-2013, her league has been a part of BWBA. Her highest game was a 253 and her one and only 600 series was in 1972 which caused such a stir.....after all she is a left-handed bowler and her ball was from Montgomery Ward!
She has served many times as league President, Vice President, Secretary/Treasurer and was the association Vice President for the Henderson County Women when Country Fun Bowling Alley and Restaurant burned a few years ago.
June has bowled at Nationals 15 times and her first was in St. Louis, Missouri in 1982. She and a friend drove there and were substitutes on a team.
"Our squad time was at 2 a.m.," she said. "I wonder if that had anything to do with them needing subs?"
She has bowled in 33 state tournaments along with the Irene Kearny Tournament in Springfield.
The Irene Kearney Tournament irritated her husband tremendously since it always seemed to be planting time when she was heading off bowling again....she was, after all, his farmhand.
During one of Bernard's "moments" about her leaving at such an important farming time she explained that she would just do a "rain dance" so she would not miss any work and low and behold it rained for days, so Bernard never said another word about her going to that tournament.
June carried a 172 average for many years and currently bowls in two leagues in Burlington, Iowa on Tuesday afternoon and Wednesday evning, and one in Monmouth on Mondays at Tombstone Lanes.
June Galbraith, 86, was born in her grandfather's house in Dankwardt Park in Burlington, IA, to Homer and Iola Stevenson. Her early years were spent in Des Moines and Henderson Counties and she graduated from Stronghurst High School.
On June 10th, 1945 she married Bernard Galbraith in Carman and farmed with him while raising 3 sons, Steven, David and Thomas who all live in Henderson County.
June has 8 grandchildren and 11 great-grandchildren. In the early 80's June went to work, outside the home, at Job Service and Today's Modern Hair Options in Burlington, Iowa.
She loves to sew, weave, crochet and do almost anything related to textile crafting. When asked her about her "bucket list" she replied,
"I zip lined at 85 years of age, so next will be skydiving!"
---