The Hancock-Henderson Quill, Inc.
---
Won't You Be A Part Of It?
Spray Park-Lasting Memorial To Dr. Pogue
by Dessa Rodeffer, Publisher/Owner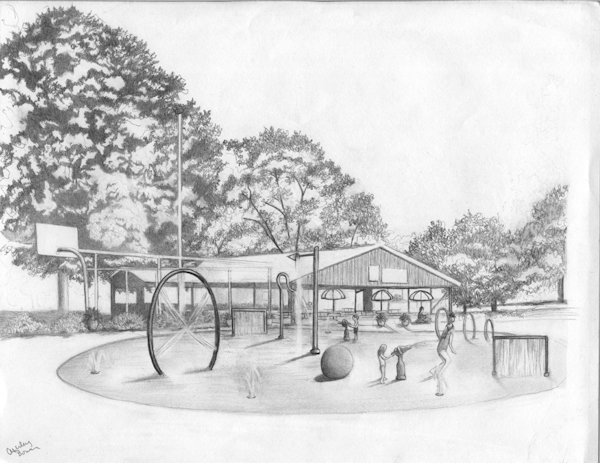 Those who care about the progress of the Stronghurst Village Park and the families who frequent it, have a unique opportunity to financially contribute to a lasting memorial for the town's beloved Doctor Robert Pogue, who passed away suddenly this winter from complications of the flu. A small committee has been working diligently to find the best option for long term use, and have concluded that a MEMORIAL SPRAY PARK, large enough to draw families, while making a statement about their doctor who made a huge impact on Stronghurst as a community booster and huge family man, would be a wonderful plan for the Stronghurst Village Park while honoring a man who gave so much. (See Spray Park p-16)
Committee members are Jade (Taylor) Parker, Diana Taylor, Tony Griepentrog, and Jerry Keimig.
Jade Parker, whose family were friends of the Doctor Pogue family lived in Columbia, MO for a time where two spray parks were a big drawing card to families.
'"They were very popular with families," she said, "and after I returned to the area, I thought how much fun it would be to have one here."
They are more affordable, and have very little maintenance and upkeep in the non-recirculating system.
If everyone gets behind this right away, the committee is hoping to have the dedication in the Spring of 2014. It will be very exciting and fun for all ages, and enjoyable for those who just want to sit on a park bench and observe the action.
"Terri, (Dr. Pogue's wife) with their four grandchildren, will be the first to step foot onto it, and can hardly wait!"
Many who knew Doc, knew that he enjoyed kids, parks, sports, fun, community and family time. In researching which avenue to pursue, it was found that high school sports and even play ground equipment are much more dangerous.
The company they are talking to has managed 400 spray parks in twelve years and have never had anyone call to report an incident.
That is not to say someone has not slipped or fallen, but there hasn't been any incidents reported to them. A heavy brooming effect is applied to the cement to reduce falling.
Jade said the park will not just have sprays that come up from the ground but will have above ground water attractions. They are keeping in mind to choose features that are high water conservation pieces, which will limit them from some features, but it will still be lots of fun plus insure that the Spray Park will not use a lot of water.
The Spray Park was something Dr. Pogue knew about and was a supporter of, but of course, had no idea it would bear his name. It is a special way he can still be helping the community, and families, and bringing enjoyment to the many gatherings of his wife, children, and grandchildren.
"The initial grant for the project was denied in January, and then doc passed away in February. In continuing with this project, we wanted to memorize him in this manner so we had approached the Booster Club and the Stronghurst Village Board and had received their full backing.
Jade said their first bid in the initial stages had been too small plus inadequate in size. It was only big enough for about 10 kids. They decided to look into more companies and found better options with more expertise which led them to an adequate spray park for Stronghurst of approximately 2400 sq. ft at $130,000.
Compared to a community pool which they found costs around $850,000 to build, plus maintenance costs, lots of water, high liability, lifeguards, and admission fees, the Spray Park seemed perfect.
The fundraiser for the project is a special brick commemorative sidewalk leading to the spray park that will show the many generous contributors to the "Dr. Robert Pogue Memorial Spray Park".
It is hoped some can give up a family vacation, Christmas presents, or a large purchase for a year to buy a Brick Array at $5,000 which will give them 9 bricks to make an array from a a logo or photo or they can pick from 100s of designs or use any of their own high resolution photos.
You may also give in honor of someone's anniversary, birthday, or a birth, for a veteran, or in memory of someone or to recognize your business, high school class, church or club. a wedding, or a wedding present, a seed corn logo, etc.
"We are hoping for an array of different messages about the community doc loved so well," Diana Taylor said.
We have a $130,000 goal but have over half - $73,000 at present since our main kick-off occurred in June. We would really like to see the money coming in before the end of the year for next year's installation and to insure that we can plan for our dedication in the Spring.
Some already have bricks in their grandkids' names, graduating classes are putting their class flower on a brick, or Rebel emblem, or the motto of their class with members of the class contributing toward the memorial.
We are also hoping there are some organizations that will come forward that want to be a part of this project.
The bricks will come in three sizes: 4"x8" for $100; 8"x8" for $500; and 12"x12" for $1,000; and a special "Brick Array"containing nine 8"x8" bricks for $5,000.
Remember, if several go together, it will make the brick you choose more affordable. For instance, 10 in a family could give $10 for $100 brick, or 25 in a club or a class could give $20 a piece for a $500 brick.
It is hoped that your business will want to be a strong participant in contributing to the park and remembering a doctor and community booster who gave us so much.
The Spray Park will be a great addition to the park and will be located in the corner nearest the Banks and Beals Funeral Home yet away from the parking area.
It will be a place families and kids can cool off on a hot summer day, that is close to home. It is handicap accessible and suitable for all ages. It will promote physical activity through stimulating fun, will have no risk of drowning, no lifeguards required, no standing water and completely free of cost to anyone who comes.
All it takes is our initial contribution, generosity, and support to make this dream a reality for this and future generations.
In discussng what Doctor Pogue meant to the community, Diana said, "He was more than a doctor. He was everyone's friend. The way he cared for his patients went back to a different time where doctors made house calls. We won't see that again. With his passing, everything came to a screeching halt. He went to the nursing home at 4:30 a.m. to check about patients."
"His involvement in the community was so constant, sincere, and fun. I remember he was in charge of the Bong Show (during Stronghurst Days). I tapped danced, but I didn't know how." and of course, Diana said she got bonged!
"He had such a sense of humor. It was great. He was a member of the Booster club, and he would always help financially."
Diana said, "I remember when the tornado hit Raritan and right in the middle of things, here comes Doc and Terri with groceries to the opera house to feed people."
And of course, "he was in every Christmas parade'.... the three wisemen, a syringe, or Uncle Sam'.... he was so much fun."
Doc even lightened the mood in his office, having tape over the fighting of his Fighting Illini shirt when the team of his alma mater would lose.
"Doc lived here all his life because he loved this small town, neighbors caring for neighbors, that is what he was all about."
After listening to the legacy of Dr. Pogue, what better way is there then to pass a little of his spirit on by adding our contributions to his Memorial and to the community he loved so much. It is hoped that every community member and every organization, club, and class is represented. Come Spring, all should be proud of their contributions to the Stronghurst Park and to a doctor who gave so much.
Please help, and give at the website, www.polarengraving.com/ProjectSpray. Or pick a form up at a Stronghurst Business and fill it out and mail it to: STRONGHURST BOOSTER CLUB/SPRAY PROJECT, P.O. Box 307, Stronghurst, IL 61480.
If you need further assistance call Jade Parker at 309.337.1950 or email her at jade.parker80@yahoo.com. or call Diana Taylor at 309.337.0899.
The sketch was drawn by a Stronghurst resident, Ashley Lewis Bowen, that gives some idea what the water park might look like.
---