The Hancock-Henderson Quill, Inc.
---
Meet Your Neighbor
by Dessa Rodeffer, Quill -Owner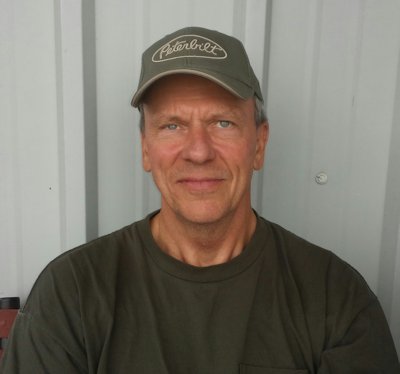 Meet Your Neighbor Jim Hungerford of Danville, Iowa whose brother, Mark and wife Cyndi, live at rural Gladstone near Weir's Fruit Farm. Jim was enjoying Heritage Trails at Weir's and the delicious pork chops served by the Biggsville Fire Dept. when this interview was made.
Jim, a Mechanical Engineer, is employed by American Ordnance, LLC at the I.A.A.P. in Middletown, Iowa. He helps make tank ammunition for the U.S. Army and the U.S. Marine Corp.
He previously retired after 31 years from A.T.K. based in Minneapolis, Minnesota, which is also an ordnance manufacturer.
Jim was born and raised in Osage. Iowa. His parents were Charlie and Neva Hungerford, who farmed, and now both are deceased.
He has two brothers, Mark, a retired truck owner, and wife Cyndi, employed at HyVee in Burlington, Iowa; Todd (Tina), lives in Sierra Vista, Arizona and is a computer programmer and Tina is an employee of an electric coop; a sister, Ann Keinzle, is a retired registered nurse from Riceville, Iowa.
Jim attended elementary and high school in Osage. After graduating from Osage Community High School in 1971 he joined the Air Force and trained in Tuscon, NY. He was stationed in Korea, from 1971-75 which was after the Vietnam era when Nixon ended the Vietnam conflict and called the troops home.
Jim received his mechanical engineering degree from Iowa State University in 1980.
He has a daughter, Jennifer (Jared) Kunze and a granddaughter (Cayline,10) who lives in the Minneapolis suburb of Bel Plaine, Minnesota.
He attends Harmony Bible Church in Danville, Iowa.
Among his hobbies are playing golf for the American Ordinance Golf League at Shafer Golf Course in Ft. Madison, Iowa. There are 10 employee teams that participate.
He also enjoys motorcycling and has 4 Harleys and his latest, a Honda, and enjoys his restoration projects which include 7 cars and 2 pickups.
His latest vacation which he enjoyed was a trip to Hawaii.
His extra curricular activities, while in high school and college, was playing the trumpet. He played in the concert band and was a member of the drum and bugle corp in Mississippi while in tech school in the service, and marched in the Mardi Gras Parade in New Orleans.
He recently saw Doc Severinson and The Big Band play and said, "that was a blast."
He works out at Sports Worx, owned by Paul and Holly Armstrong, in West Burlington, Iowa.
Jim was an avid body builder and in his 40's was named â"Mr. Minnesota" for two years in (1994-95) when he competed in the Masters Division for body building.
Jim's advice is to, "Enjoy your kids as they grow up so fast; find a job you enjoy working at, work hard and be dependable."
---