The Hancock-Henderson Quill, Inc.
---
WITCH'S RIB BBQ ....mmmmm Something Smells Scrumptious
by Dessa Rodeffer, Quill Publisher/Owner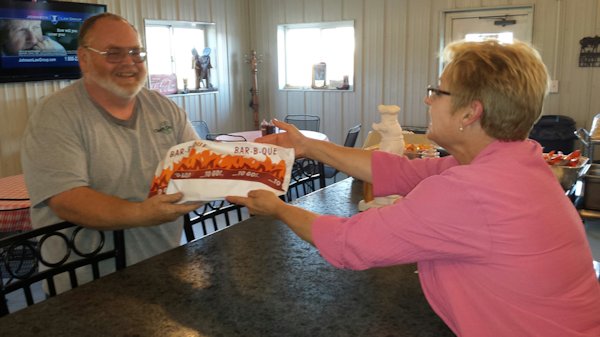 Something smells mighty good. The minute you pull off Route 9/94 into the newly graveled parking lot of Witch's Rib BBQ restaurant, and step out of your vehicle, the smell of the meats from the large custom made smoker, has you hooked.
You're going inside and order whatever that is that's got your mouth a watering.
Jim and Glenda Thomas have found a niche that needed filled, plus they have the knowledge of tasty food, clean and attractive environment, hard work ethics, and personality plus to go with it.
And so far, with the staff they have helping them, they've been able to keep up with demand, which has been more than they expected.
Glenda said they felt since there weren't any BBQ restaurants nearby, they felt they could draw customers from La Harpe and Dallas City since they are located on the road in between the two towns.
What they didn't expect is customers coming from Macomb, Warsaw, Bushnell and even further.
Their carry-out business is 75% of their business, and they have already expanded with a deck outside for the 25% of their eat-in crowd.
The twenty years the couple lived in Texas was enough to influence Jim with the Texas style of BBQ he uses today. He uses his own mixture of Texas style seasoning in everything that is so popular in the south and the southwest.
"It's a dry rub on all the meat," and then it's into the smoker. None of the meat is wet and the BBQ sauce is served on the side which he makes extra of just to sell.
There are two kinds of BBQ sauces.... the Carolina Mustard Style (my absolute favorite), and the Kansas City style (smoky sweet on the front with a bite on the back side.) For those who do not use bar-b-cue sauce you are missing out on some tantalizing flavors, but they have ketchup or you can enjoy the smoky wonderful taste of the meat without condiments.
Glenda also makes fresh berry cobblers (blackberry, peach, cherry, and they have their own blueberry bushes. They served large portions topped with vanilla ice cream.
Their catering business is growing and they have served 20 or just a few and were finishing up their largest to date for 500 at Raritan Appreciation Days last week.
Earlier, they served 350 at a Carthage Memorial Hospital Appreciation Meal to thank employees and families for raising $500,000 for their hospital.
"Twenty to whatever," we are happy to do it Glenda said.
A lot of customers will pick up a large order, too, such as the Blythes for their field day, and lots of different kinds of events.
"We are still making our business more efficient.
At present, "we have one full time employee and several part time." Along with Jim and Glenda are Dominic Jones (smokes the meat), Karen Shumaker (prep cook), and Jewel Miller and Theresa Purdy waitressing, etc..
Glenda and Jim met in school in Kansas and married in 1980. Her background is a "Fusion Tech" which came from a Masters in Environmental.
She and Jim worked in the Midwest a few years, and Jim was a Grasshopper representative. Her job kept them moving and they moved to the Dallas/Fort Worth, and El Paso, Texas area for twenty years and she worked for Boeing Co. and he continued with Grasshopper before they came to the La Harpe area thirteen years ago.
For a couple years she worked at G.E. and then 10 years at Case in Burlington, Iowa, dealing with the EPA and OCEA, making sure their company was in compliance with current regulations.
Jim's first job after retiring from Grasshopper in Illinois was at FS for 10 months in Stronghurst working with Joe Kane, now one of his customers. He then went to work for Brian Arnold 7-8 years running his grain dryer in his large farming operation. He continues to help part time.
Jim retired first, and by March 1st this year, Glenda retired.
The first issue was checking out all the regulations for the food industry, and then they set their start date.
The BBQ business was "a trick to get her home", he said, but Glenda says it is something he was good at and it just seemed to work when thinking about something they could do that wasn't in the area and would bring people back. He was always cooking and smoking big portions for friends.
Before the restaurant, the couple had a garden business in the other side of the building. They sold sweet corn, tomatoes, and have 600 blueberry bushes and also purchased melons for sale from Muscatine which she feels are the best.
"We will continue to use the blueberries for cobblers but will not have time for the rest."
They use Sysco restaurant supplier for food purchases and purchase tasty ice cream and gourmet sour dough buns and fruits.
"Everyday we are working on quality. The second you let up, it's not good.
We serve good portions at reasonable prices, use fresh ingredients, extra virgin olive oil, try to stay as healthy as possible, and make everything we can by scratch. We offer sample platters or small 2-4 oz. samples.
Cook time takes planning. Everything is rubbed on and Briskets smoked 18 hours, Pork Butt 9-10 hours, Ribs 6 hours, Turkey and Pork Loin 5-6 hours, and Sausage 4 hours at various temperatures that average around 220 degrees.
"We didn't expect it to catch on so quickly. The community has been good to us, and we enjoy our customers and meeting their needs."
Dan Evans, La Harpe is fixing the evening meal again tonight and picks up a rack of freshly barbecued ribs along with some chili from Glenda Thomas, owner, along with her husband Jim, of Witch's Rib BBQ. Evans, with a grin, says that he is giving his working wife a rest as he reaches across the bar for his favorite flavorful meal. "Everything here is excellent!" And he added, "I have people from all over, coming here." Open 7 days a week from 11 a.m. to 8 p.m., the new eatery has been open now for 11 months, located 4 miles west of La Harpe on State Highway 9 and 94.

Jim Thomas has a knack for doing just about anything and really enjoys making salads, making spices, and smoking meat. His wife, "Glenda the good witch" told him he was so good at it, he should open a restaurant, so he did. But Jim says the reason he did it is so she would retire and be home. His plan worked....and so did hers.
---