The Hancock-Henderson Quill, Inc.
---
Take The Quill Along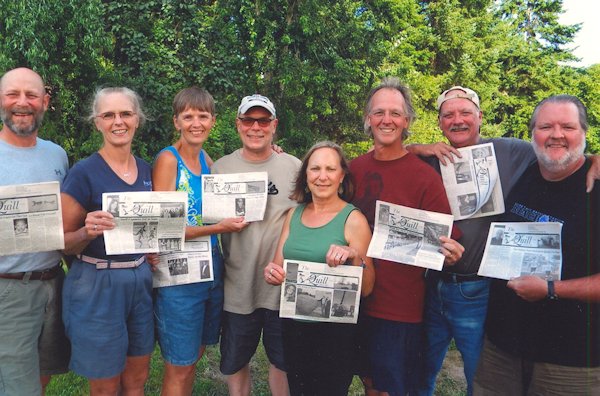 The Kralovecs and the Smiths (former residents of La Harpe) took "The Quill" on their travels this summer to Canby, Oregon. From left to right is: Phil Smith came from Forest Grove, Oregon, Julie Kralovec from Boise, Idaho, Jayne Kralovec Forwood, Payette, Idaho, Andrew Smith, Pittsburgh, Pennsylvania, Kathy Smith Rhew, Troutdale, Oregon, Charles Kralovec, Canby, Oregon and Robert Kralovec, Petaluma, California, and John Kralovec from Boise, Idaho.
"The Quill" came to Canby, Oregon for Anna Kralovec's wedding on Friday, July 12th. The next day the Kralovecs and Smiths enjoyed getting together for dinner. They enjoyed sharing stories about La Harpe, their parents and spending time with nieces, nephews, and spouses. A good time was had by all.
Whenever you go on a trip, take "The Quill" along, have your picture taken with it, and then send it to us.
Let's see where all "The Quill" can travel.
---