The Hancock-Henderson Quill, Inc.
---
Meet Your Neighbor
by Dessa Rodeffer, Quill -Owner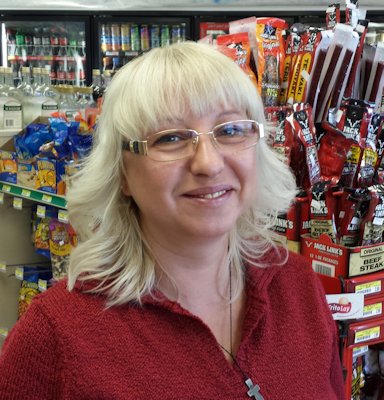 Meet Your Neighbor Diana Garst of Stronghurst who was born in Moldova (Soviet Union) and raised in the big city of Chishiniov.
She attended school and medical college and is a physical therapist.
Her parents are Nina and Iacov Beloziorov. Her mother is retired from being a clothing store owner. Her father was second in command of Moldova, (business manager for the country) when it was still the Soviet Union.
Diana's has a son Alex Beloziorov who is 21 in the U.S. Army. He was a construction engineer and now attending Airborne School in South Carolina and would like to be a translator. He is fluent in four languages, English, Russian, Romanian and Spanish.
In Moldova, Diana worked many hours as a therapist in clinics.
Her friends introduced her through the computer to her husband and they continued to communicate through the computer, telephone, and Skype. It was through Skype he proposed to her without personally meeting her as yet.
He flew to Moldova where they got the necessary papers, and were married in her parents home with friends and family present. They stayed 10 days and he came back to Stronghurst where he works at Millard in Burlington, Iowa working union sheet metal.
They had a long wait before Diana and her son Alex could join her husband in Stronghurst, as the paperwork took one year and nine months. She said, "My husband is a smart man with a good heart and good hands. He helped me through the long wait."
Finally they moved to America and Alex was enrolled in Notre Dame Catholic school in Burlington, Iowa.
Diana is still unable to get her license for Physical Therapy to work in the U.S.
She has worked the past three years at Ayerc/Carman, and loves her job.
"My gals and my customers help me a lot with the language and the American customs. It is very nice here. Everyone loves me and have nicknamed meā"Blondy" but I prefer Diana," she says. She has one brother who is also named Alex, 49, who previously lived in Canada for five years but is now back in Chisiniov with his wife Caroline and two boys.
Alex is a businessman and she is a homemaker
Diana is doing house decorating at home which is her dream and she loves it. She loves to paint and fix things which she learned with her father. He taught her how to make money using her head and using her hands.
Diana is afraid to fly and said the flight here is 13 hours to Chicago - or St. Louis, "In the car I am fine."
"What I miss most is attending my Christian Orthodox Church," she said. "There are none but in Chicago or big cities."
Diana has econs (small replicas of the statutes and or pictures that are in her church such as God and Christ and Maria). They make her feel better because they remind her of home. "My church is very important - there are none in the area like it."
Future plans depend on her husband, she says. Moldova makes the best wine in the world and my father showed him some factories for sale. There are many factories in Moldova and of course, one day if John so chooses to buy a wine factory, I will follow him, as that is my husband's dream, "I will follow him because we're family, and I love my husband."
---