The Hancock-Henderson Quill, Inc.
---
Meet Your Neighbor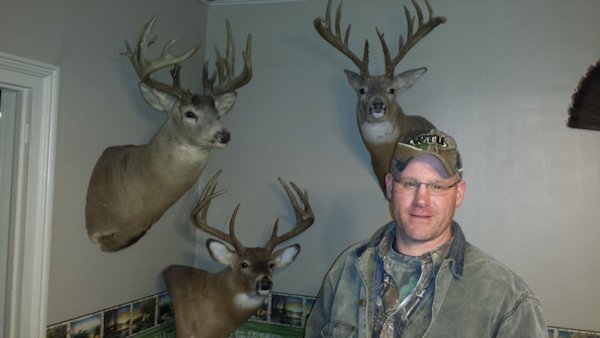 Meet Your Neighbor Mark Kinneer who keeps very busy delivering a world of goods to homes and businesses as a UPS delivery man, but always finds time to enjoy another season of deer hunting on timber he owns in Henderson County and in the area.
Mark lives in Kirkwood with his bride of almost 11 years, Jennifer (Defenbaugh), an RN in the emergency room at Great River Medical Center in Burlington, Iowa.
They are the proud parents of three sons, Luke (7), Caleb (6), and Zack (19 months).
Mark's parents are Nancy and Rolland Kinneer of Burlington. Rolland is retired from J.I. Case and Nancy is employed by the Burlington School District.
His grandparents are Bill and Delores Kinneer. Delores' maiden name was Willis, born and raised in Kirkwood and Mark and Katherine Baker, all deceased.
He has three brothers, Todd (Misty), in the United States Army, a W-5, and a helicopter pilot, Eric (Michelle), employed by Simpson Paper and Mat (Stephanie), employed at Huffman's Farm & Home in Burlington, IA.
Mark has three nieces, Lindsey, Lainey and Malena and one nephew, Clayton.
He graduated from Burlington High School and attended Southeastern Community College and went to work for United Parcel Service, West Burlington, IA.
While in high school Mark was involved in track, football, art classes and among the first to start the first Burlington HS Freshman boys cheerleading squad assisting the girls with their throws and routines.
When Mark was younger he was employed at McDonald's Restaurant, and then worked at Waterbed Creations in Burlington.
For the past 25 years Mark has been employed at United Parcel Service, in Burlington, Iowa as a delivery/driver and in a few years he will be able to retire!
Their family attends the Rozetta Baptist Church where their sons attend youth club.
Mark's hobbies are hunting, hunting and hunting! He hunts for ducks, geese, deer, and turkey with bow and shotgun. He said, "I had never missed an opening day of duck season for 20 years," but now with his busy family, he has pretty well quit that and boating. In February of each year, he attends the Mississippi Valley Calling Classic of duck and goose calling.
Their family travel adventures include a vacation the last 3 years to the Wisconsin Dells. A special family event is the annual Defenbaugh Pond Party in August for family and friends.
In the future he hopes to vacation in Disney and wishes some day take his wife and family to Africa where he can go hunting with his sons.
---