The Hancock-Henderson Quill, Inc.
---
Thankful Their Son's Home from Afghanistan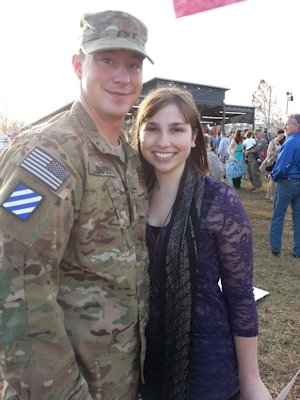 What's in a parents heart at Thanksgiving time? If you have a son or daughter in the military, your thoughts are continually on their safety. Ask Dale and Donna Buss of Media. They are so grateful their son Brad (2nd Lt. US Army) has finally returned to the U.S. after 9 months.
"Whew:I can breathe again." Donna said, "This Thanksgiving I am thankful that God and all his guardian angels protected Brad during his deployment to Afghanistan so that he and his fellow soldiers could return home safely to friends and family. I am doubly thankful that Brad was able to return home to his dedicated Army strong wife, Emily, who waited for him during this time with patience and grace." Emily and the Busses met Brad at Fort Stewart near Savannah, GA. Brad earned a Combat Action Badge, a Bronze Star and was promoted to 1LT, 18 months into a 5 active, 3 year reserve commitment. Emily completed her master's internship, completed her master's degree, passed her Occupational Therapist certification test, started her career, and did all the leg work to buy their first house. She took possession of the house 3 days before Brad came home.
---