The Hancock-Henderson Quill, Inc.

---
Growth Energy asks for Your Help In Keeping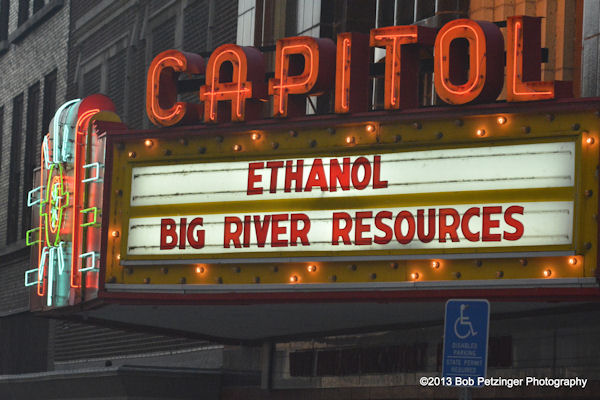 The Renewable Fuel Standard In Place For The Sake ofAmerica's Security, the Economy, and the Environment
– Briefing at Burlington's Capitol Theater, hosted by Big River Resources, West Burlington, IA
by Dessa Rodeffer, The Quill, Publisher/Owner
It is pretty overwhelming meeting the accomplished men of The Growth Energy board today, fighting for America's fuel, Ethanol, and to preserve our way of life. 
The Quill enjoyed front row seats along with others from the news media to hear Richard Childress (arguably the most important figure of NASCAR today), General Wesley Clark (retired 4 star General who finished his career as NATO commander and Supreme Allied Commander Europe; and led NATO forces to victory in Operation Allied Force, saving 1.5 million Albanians from ethnic cleansing), Jeff Broin–largest producer in the world of ethanol who owned his first plant at age 22, and CEO of Growth Energy Tom Buis who is the spokesperson for the ethanol industry. 
Amazing individuals…. and they've come together to seek room somewhere in the media newspapers for the facts and the truth to be told.  It is a continual battle fighting the myths and lies, that are out there. And if they are said over and over, people come to think they are true without doing the research or checking the facts. 
Their story of ethanol is backed by facts, CEO Tom Buis said, and the board and supporters of Growth Energy are calling upon you and me as Americans to get involved now and call Washington D.C.
Now is the time if you want to see the U.S. economy growing strong again, gas prices and food prices lower, and to keep us from fighting another war .
"Make your thoughts heard in Washington D.C.." 
"Email, write them, tell them it is important to keep the renewable fuel standard in tact – we don't want any more conflict in the Middle East!"
"Strong pressure now, means everything!"
"Help protect our nation, and help keep our military from war and from having to guard more oil fields in the Middle East."
Tom Buis addressed inaccuracies of recent AP reports that was picked up by local and neighboring newspapers.
Richard Childress said "I believe in what's good for America,"  and this (ethanol) is as good as it gets."
Childress said they have tried E-15 to E-30 and find its cooler, cleaner and the talk that it is bad"its bad on engines" is a myth. 
We've driven 5 million miles on E-15 and there is no damage to our 850 hp plus engines.
Also at the event was local race driver Chase Flatt of FLATT OUT MOTORSPORTS driving  a car owned by his dad Kevin Flatt of Flatt Electric and cousin Brad Flatt of Stronghurst Repair, Stronghurst. The car is fueled by E-85. He races the majority of the time at 34 Raceway, but also races in East Moline, and in Marshalltown, IA. Currently he is 1st and 2nd in points in the Midwest Region and second and third in the Nationals.
Running E-85 for three years now, Chase says he loves ethanol. 
"I like E-85 because it runs faster, cleaner, cooler, and gives me more power."  
Chase told a few racing stories about competing, driving his Mode-Lite hard in the dirt and heat but how it was keeping extremely cooler than his competitors.
Childress took time to sign Chase Flatt's winning Mod-Lite and was photographed with Chase, and he encouraged him to follow his dreams. 
Childress said, "Only in America can you have a dream, and if you work hard, live to see it come true."
Growth Energy board member Ray Defenbaugh and CEO of Big River Resources conducted the briefing of his personal friends, Childress, Clark, Broin, and Buis, and was applauded by them and other peers on the Growth Energy Board for conducting this briefing and for his hard work in fighting for America, community, and the rural way of life and then was given a standing ovation by the audience.
Ray Defenbaugh, Growth Energy Board and CEO of Big River Resources, LLC, West Burlington, IA, , fields questions during briefing.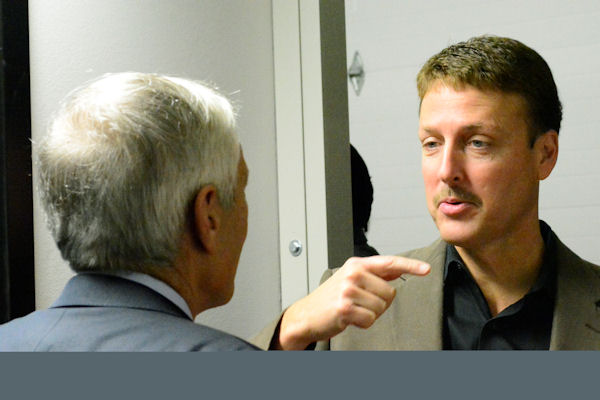 Growth Energy board members Jeff Broin talks with General Wesley Clark (retired)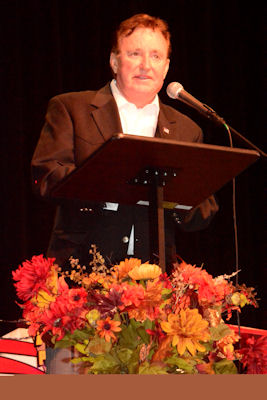 Growth Energy Board member, Richard Childress speaks out for ethanol.
---