The Hancock-Henderson Quill, Inc.
Meet Your Neighbor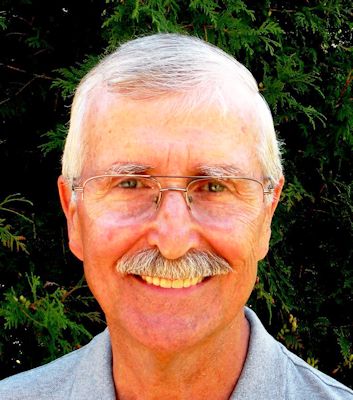 Meet Your Neighbor JD Wetterling of Brevard, North Carolina but he and his wife of 47 years, Karen, have been on the road for nearly six years in an RV, traveling the USA full-time in a 35-foot fifth-wheel.
They call it the Isaiah 6:3 Tour--"The whole earth is full of his glory," and they are trying to absorb as much of that glory as they can in their retirement years. "It's the most wonderful life imaginable," he says.
JD was born in Burlington, IA to Wendell and Alberta Wetterling and grew up on a farm on the Raritan Road. He went to Cox School, a one room country schoolhouse across the road from the farm. All 8 years of grade school he was the only kid in his class. He graduated from Stronghurst High School in the Class of '61.
JD is married to Karen Sue Frizen, daughter of Brigadier General (USAF) and Mrs. John E. Frizen of Chicago. They have a daughter, Liz, married with two children and living in north suburban Cincinnati, Ohio and son Stephen, married with three children living in Marietta, Georgia.
JD was a fighter pilot in the USAF for 6 years following graduation from the University of Illinois. He flew 268 combat missions in an F-100 in the Vietnam War, and was awarded two distinguished Flying Crosses and 14 Air Medals. He was Top Gun in every fighter squadron in which he served in the US, Asia, and Europe.
Following his military service he was a commodity futures broker in Chicago and for several years was the treasurer and member of the Board of Directors of the Chicago Mercantile Exchange.
He and his family moved to Sarasota in 1979 and he took a mid-life installment on his retirement for a few years, then re-entered the financial arena as a stock broker for Morgan Stanley.
He retired at 57 and moved to Brevard, North Carolina, where he was the resident manager of Ridge Haven, a camp and conference center of the Presbyterian Church in America in the Blue Ridge Mountains. From there he and his wife began their RV tour of American in February, 2008.
JD is the author of 4 books and a few hundred op-ed columns for the Wall Street Journal, the LA Times, and numerous other periodicals. He speaks all over American, including Presbyterian pulpits, and would rather write and speak than eat!
He is the son of Wendell Wetterling, lifelong farmer and resident of Henderson County and long-time Stronghurst schools board member. His mother is also a lifelong resident of the Stronghurst community and long time first grade teacher at Stronghurst.
JD has a brother, John, a retired farmer and member of the Stronghurst schools custodial staff, a sister, Jerilyn, who lives in north suburban Chicago, and a sister, Jean, who died in 2012. All four were graduates of Stronghurst High School.
His fraternal grandparents are A.E. Wetterling, of rural Terre Haute, and Alfen Nolan of Stronghurst. Maternal grandparents are Ed and Mae Blender of rural Raritan.
JD graduated valedictorian of the Stronghurst Class of 61, and lettered in football, basketball, and track while a student there. He has a bachelor's degree in Business Management from the U of IL and an MBA, summa cum laude, from the University of Utah.
JD worshiped with his family at Bethel Lutheran Church in Stronghurst, a church his grandfather, A.E. Wetterling helped to build. Today is an elder and lay minister in the Presbyterian Church in America, and he loves to preach and teach and write about God's truth.
JD's perpetual vacation in an RV may have grown out of the fact that growing up on the farm left previous little time (or money) for vacations.
His future plans are to keep on writing and speaking and traveling full-time in his RV until the wheels come off the RV or one of them. God has been so gracious to them in their lives that they will sing His praise until he call them home.
---