The Hancock-Henderson Quill, Inc.
---
Meyer retires as County Treasurer
By Sally Day, The Quill
"It has been a pleasure to work for the county," Susan Meyer said of her 23 years working for Henderson County and 15 years in the Treasurer's Office. Her voice filled with pride and praise, she continued, "I am very proud to be a citizen of this county."
Meyer also had a great deal of praise for Tina Droste, the woman who will fill her shoes as Henderson County Treasurer. Droste currently serves as the Chief Deputy Collector. "Working with Susan has been very enjoyable and I have learned a lot," Droste noted. "It makes me a little nervous (to be County Treasurer)," Droste added, "I have a lot left to learn."
Meyer, of Oquawka, will enjoy the company of her family during her retirement. She has two sons, Danniel and Jeffrey. Danniel and his wife, Julie are the parents of two sons, Jonathon, 13 and Thomas, 10. They reside in Macomb, where Danniel is a Fire Fighter. Jeffery and his wife, Julie, are expecting their first child in July. They live in Stronghurst and Jeffery works for Burlington Northern Railroad. Meyer said, "The love of life is Bryan Cochran."
Droste has lived in Henderson County all of her life. She now resides in Biggsville. She is the mother of three children, daughters Kayla, 16, Katie, 14, and son, Kaiden, 8.
Meyer would like people to understand one thing, "When I was elected, it was to serve the people of Henderson County, not a political party."
There will be a retirement party held to honor Meyer on Friday, May 31, 2013, from 2-4 p.m. in the small courtroom at Henderson County Courthouse in Oquawka. The public is welcome to attend.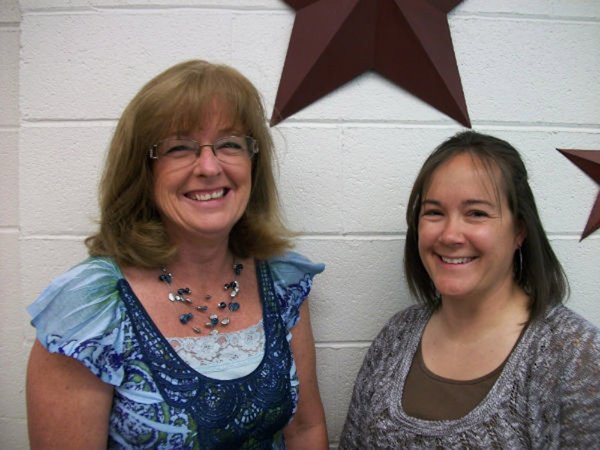 Outgoing Henderson County Treasurer Susan Meyer (on left) and newly appointed Henderson County Treasurer Tina Droste.
---