The Hancock-Henderson Quill, Inc.
---
Meet Your Neighbor
By Joyce Wolf, The Quill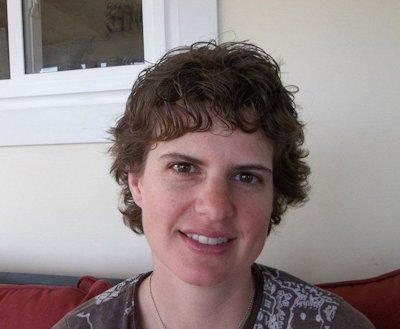 Meet your neighbor, Johanna Defenbaugh of rural Biggsville.
Johanna Adair Defenbaugh was born to John and Joyce Dixon Adair in rural Henderson County Illinois.
She grew up in the home where her mother now lives. Her father is in the Roseville Rehab and Health Care Center receiving assistance to manage his Parkinson's Disease. It has been a life changing process for John and the whole family has learned so much about it.
John's father W. C. Adair lives at Legacy Estates in Monmouth and his mother, Mildred is deceased. Joyce's parents were Gillette and Marjorie Dixon who lived in Oquawka and they are both deceased.
Johanna graduated from Union High School in 1992 and attended Monmouth College.
She married Dan Defenbaugh at the Rozetta Baptist Church in Rozetta Township. They had "always" known each other by attending the same school, but mutual friends introduced them and Johanna's dad gave her phone number to "someone" to give to Dan. It was a conspiracy that worked. Their first date was pizza and a movie at the historic Rivoli Theater in Monmouth.
They had a fairy-tale wedding June 10th, 1995 with Pastor Larry Dyson officiating. Jerry Weibel of rural route Biggsville brought a horse and carriage to take the couple for a ride after the ceremony and before the reception which was held at the VFW in Monmouth. "Love and Marriage and Horse and Carriage".
They honeymooned in Estes Park, Colorado where her great aunt has a cabin she made available to them. Johanna being the only child in her family, found it quite an adjustment to have now two sisters and a brother. And as the years have gone by, two brothers-in-law and a sister-in-law were added to their family.
From all that, Dan and Johanna have seven nephews and one niece.
For a few years after they were married Johanna owned half of "The Gathering Place" gift shop on the square in Monmouth and she was a teacher at the Cornerstone Christian Academy for four years while their son, Nathan, attended.
Dan and Johanna lived on the farm just south of Kirkwood after they were married and moved to her grandparents house, W.C. and Mildred Adair, north of Kirkwood in 2011. Five generations of Adairs have lived in the house that was purchased first by Johanna's great, great grandfather in 1894.
The house was built in 1873, eight years after the civil war. Before they moved in, they started a major renovation and updating. Johanna had many ideas, since when she was younger, she spent a lot of time there.
They redid the kitchen and added a bathroom on the main floor and redid the upstairs bath and added a utility room on the bedroom level. Johanna did most of the painting and wallpapering herself and was very glad when it was finished!
Of course they added insulation and other energy saving steps. Old farmhouses were notoriously cold and drafty in the winter but they made it cozy and energy efficient.
Dan and Johanna have two children. Nathan is fifteen and Ella is almost eleven.
Nathan enjoys helping on the farm and is learning all the steps that are necessary to raise crops and handle livestock.
Ella has her own chores and especially enjoys her horses and cats.
The family has three equine, two large ponies and one horse and they always greet you with a whinny if they are going to get some attention. Ella also helps with the chickens and the gardening and household chores.
Johanna home schools Nathan and Ella, so they have to get that school work finished before any free time. Just like other schools, they go on field trips which always are educational. Since there is almost five years difference in their ages, the material they study is varied, but Johanna and other family members choose field trip destinations carefully, with that in mind.
Johanna has always loved plants, flowers and trees and had her work cut out for her as her grandpa had not been able for several years to take care of the yard and garden areas. While some of the work was going on in their house, Johanna had several projects going in the yard.
One whole wall in the basement of the house had to be replaced, so there was a really large pile of sandstone rocks. Originally there were steps going down the hill towards the barn and some of the steps needed attention. Johanna used the rocks and limestone taken from the house foundation to fix the steps and made a pond with a stream going down the hill beside the steps.
In summer the area is all abloom with flowers of all kinds and fish in the pond with lilypads and frogs. There is a lot of shade, and many varieties of hostas are growing on the hillside along with many flowering plants. Johanna preserved many of the original trees and plants and added new ones.
Another ongoing project is the retaining wall behind the house next to the drive, also made with the limestone. It involves placing every rock by hand and those rocks will be there for future generations.
Dan, Johanna, Nathan and Ella really enjoy their family vacations. They try to get away for awhile every year, but it's difficult sometimes because of the farm responsibilities.
They raise crops and have a herd of cows, so in between planting, spraying, mowing and haying and various other things that need doing-they make vacation plans. Their favorite destination is Door County, Wisconsin where they ride bikes and visit antique shops, walk the beaches of Lake Michigan and just enjoy seeing new things.
One year they visited Mount Rushmore in the Black Hills of South Dakota and saw the Corn Palace in Mitchell, South Dakota.
Another trip was to Gatlinburg, Tennessee and Dollywood where they went hiking in the mountains to a waterfall, along with seeing all the tourist sights. They attended a dinner theater where the food was served without utensils and they threw the biscuits to them at the table. It was just not what they were used to.
Some day they would like to all go to Estes Park for a vacation where Dan and Johanna honeymooned.
Their family attends the Rozetta Baptist Church and many of their activities are centered around the church.
There are many opportunities for the kids and Johanna lends her talents as a decorator to help with the Ladies and Mens special nights and for Vacation Bible School.
Because at different times of the year Johanna has "something" blooming, the church benefits with a colorful bouquet, a real good example of Gods beauty on this earth.
---