The Hancock-Henderson Quill, Inc.
---
Special Couple Will Finally Get Their Son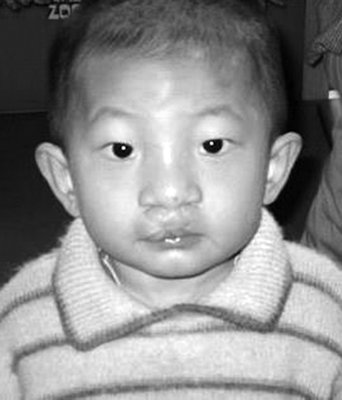 Little Zach Louden, who is one of thousands of orphans in China left with little hope, has quite a treat coming his way as his new adoptive parents Angie and John Louden III, board planes in Moline and then in Chicago Friday, bound for his orphanage in China.
Now twenty-two months old, Zach has never known the warmth and love of a family, and, being classified as a special needs boy, he had a smaller chance of being adopted.
His future was bleak as orphans have little and are turned out on the streets at age 14 to fend for themselves.
But, Zach's story will end differently due to the praying couple of Angie and John who said God led them to Zach, and Madison Adoption Associates, without a doubt.
And on Monday, April 1st, 2013, Zach will meet this loving young couple who he has only seen in a picture, and he will leave with them permanently, as their legal adoptive son.
Zach will have an exceptional American family, and his whole world will change forever, as well Angie's and John's.
"Family!" It's something most Americans take for granted -someone loving us, having food on the table, a warm bed and blankets, and shoes and clothes to wear.
It takes a special couple who will put many of their own wants and desires on hold to save, plan and prepare to save a child from the streets of China.
Mounds of paper work and red tape in the U.S. and in China are required, but John and Angie received the last piece of paper needed in the U.S. and are ready, (full of emotions) to take the long trip to China and finally, receive their son.
"We had always thought we would adopt, but thought we would pull toward that direction after our kids were grown," John said.
John said they had infertility issues which they were trying to overcome, and in the mean-time, had taken a foster child for 1-1/2 years (from 4 1/2 months to 2 years) and were pretty attached.
"We decided we didn't want to go through Foster Care but wanted to go into a more permanent solution, so we turned to adoption."
Why China?
"There are plenty of kids here but God led us to China," John said.
"The kids in China, there are thousands of them and they don't have 1/10th of the opportunity they have here. At age 14 they are put on the streets "no welfare system, nothing!"
John said there is the uncertainty in the U.S. and it can take two years. In China in the special needs, it takes around one year.
He said there is mounds of paper work but the Madison Adoption Associates have a Christian staff with their main office in Delaware and a site office in Rochester, IL south of Springfield.
There are several families in Macomb that have gone through the agency. We know of three and there is one in Lomax and some in the Keokuk and Burlington, Iowa area.
Angie and John said they met parents and everyone said it was the greatest thing they ever did in their entire life.
John said there is 167 million orphans in the world and China has 143 million.
It's a huge cost but they have some great help locally. John and Angie live in Macomb but John was formerly of La Harpe. Both attend the Union Church where they said a fund raiser was held to help them.
An "All Things Possible" Compassion International concert is set for April 7th at Burlington's Auditorium at 6:00 P.M. with popular singers Mark Schultz, Aaron Shust, and Jonny Diaz. singing. Schultz has made helping widows and orphans, his ministry. Part of the money will go to help with the Louden adoption.
The Loudens said, "We started the process in March of 2012 and on Good Friday, March 29 we are making the journey. We will get our son Zach Monday, April 1st and he will be with us from then on."
The three-some will be busy for two weeks with court hearings, appointments and paper work daily before they will be coming home.
They will miss the concert in Burlington, Iowa but folks at home can go and enjoy the amazing talented Christian musicians.
Both John and Angie hope they can bring awareness and encouragement to others who might do this. Many have told them they have thought of this but never took the steps to do it.
It doesn't take a special person to do this, John said. Angie and I are just average people.
"We had to make sacrifices to help," Angie said. "We cut out the Internet, Phone, Cable. There's lots of places you can cut," she said, to help do this.
"All Things Are Possible" the Loudens said.
"At the beginning, knowing what lies ahead of you, it's mind doodling!
"The affect it has on us and on this child, and the changes that will occur in his and our life "you just see God working in this."
Not everyone who hears the call to adopt, follows through. Most have excuses, but then they miss out on the wonderful journey of loving a child into adulthood.
---