The Hancock-Henderson Quill, Inc.
---
Meet Your Neighbor
by Joyce Wolf, The Quill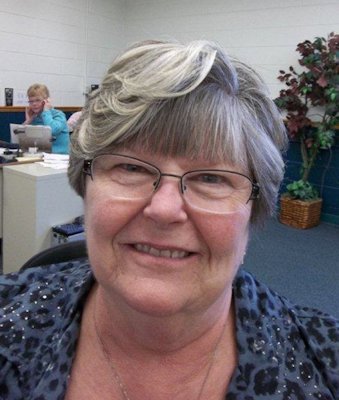 Meet Your Neighbor, Jeri Stevenson, born and raised in Galesburg. She is the mother of Kevin Stevenson in Texas, Katina Stevenson, Bettendorf, IA and Karisa Kobus, rural route Oquawka.
Jeri is also the grandma of J. D. Kobus who lives in Burlington, IA and has a daughter Nela, and Lynsay Stevenson, Oquawka, who has a son Isaiah. So they make Jeri a great grandma to two!
She has another granddaughter Kalyn who lives in Bettendorf, IA.
Karisa drives a school bus for West Central Schools. Katina is a surgical technician at Genesis Hospital in Bettendorf. She has joined other surgical specialists on mission trips to Peru several times, and will probably go more in the future. There is a great need for medical care there, but Mom is concerned about her safety.... (That's what "Momsā" do.)
Jeri graduated from Galesburg H.S. in 1960. While in school she liked science and home economics best. In home economics she learned to love cooking and sewing. Her grandma Lela and her great grandma continued teaching her those skills as she grew up. Raising three children, the cooking and sewing came in handy. Her great grandma also introduced her to the Lord who has been her source of strength throughout her life.
Jeri attends the Faith Bible Church in Oquawka and enjoys the fellowship and activities. An upcoming event at the church is the Women's Conference on April 13th which she is looking forward to.
While her children were in school Jeri was employed in Monmouth at The National Bank, now Midwest Bank. She also worked for Dayton Fresh in his real estate office and was cashier for Riverland F.S. in Monmouth for three years.
She is presently employed at the Henderson County Health Department in Gladstone. Her duties there are answering the phone, sending monthly bills and one day a week she delivers meals in Henderson County. She also is available for any other tasks she is asked to do. It is a very busy place to work, but she enjoys being busy and enjoys the people.
In 2008 Jeri took an extended vacation out west. Jeri, her daughter Karisa, and friends Amy Trulson and Pammi Norman traveled to South Dakota, Montana, Washington, Oregon and Wyoming.
One of the highlights (and there were many) was a four night stay in a cabin near the Crystal Peaks Youth Ranch near Bend, Oregon.
Karisa and Pammi attended classes, instructional and hands-on, to learn to use their horses in patient rehabilitation, both physical and emotional.
Jeri has always loved horses and really enjoyed watching what the girls learned.
Kim Meeder was the instructor and has written several books on the subject. The ranch web address is crystalpeaksyouthranch.org "A safe and peaceful environment where broken children, horses and families can find hope within the healing circle of unconditional love."
Karisa has three horses and one donkey.
While in Oregon, they were going to visit the coast, but the road through the mountains was blocked by snow- it was in May. They'll have to make the coast another trip!
Other stops included Walla Walla, Washington and a few days in western Wyoming where they explored Yellowstone National Park.
In Montana they followed a river through the mountains and saw spectacular scenery and wildlife. In South Dakota they toured the Black Hills and Mount Rushmore.
She has promised to take the Quill along for her next trip which will be to Florida soon. We're looking forward to seeing her pictures.
---