The Hancock-Henderson Quill, Inc.
---
MEET YOUR NEIGHBOR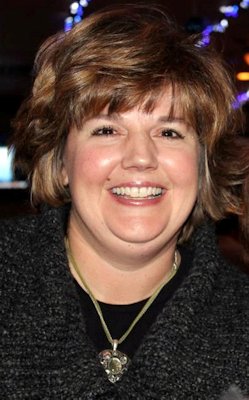 Meet your neighbor, Amy K. Wolf.
She was born in Monmouth, daughter of Phil and Trudy (Hale) Bergren of rural Monmouth. Her mom is retired from Illinois Department of Human Services. Her dad is a self-employed carpenter.
Amy is the granddaughter of Mildred (Swedlund) and the late Bob Hale. Her Grandma Hale was born and raised just south of Weir Fruit Farm. Her grandparents farmed in Henderson County near Bald Bluff until her grandfather's passing in 1966.
Amy is also the granddaughter of the late Kenny and Mary (Bennett) Bergren. Kenny owned E & A Motors in Monmouth. She is also the step-granddaughter of the late Carl Hilding Lundberg (also a Henderson County native) whom her Grandma Bergren married later in life.
Amy grew up in the rural Monmouth/Little York area. Amy lives at rural route Biggsville with her husband John, daughter Kristin, 17 and son Sam, 13.
Amy K. Bergren and John Wolf were married in the First Lutheran Church in Monmouth in 1991 and lived in their rural Kirkwood home for eleven years before moving to their present home southwest of Biggsville in 2002. Amy is a third grade teacher at West Central Elementary. John is the plant manager of Big River Resources in West Burlington, Iowa. Kristin is a junior at West Central High and Sam is an eighth grader at West Central Middle School in Stronghurst.
Amy has one brother, Eric, rural Monmouth. Eric is a welder for Alexis Fire Equipment.
Amy attended elementary school in Little York. Her Grandma Hale was a teacher in Little York and Yorkwood Elementary. Amy and her little brother both loved attending the same school where their grandma taught! It is because of her grandma and all of her other teachers that Amy chose to be a teacher herself!
She enjoyed many summers at Lake Warren north of Monmouth with family and friends. Canning vegetables from their garden each summer continues to be the family tradition it was when she was a child.
Amy is a 1987 graduate of Yorkwood High School and a 1991 graduate of Western State College of Colorado in Gunnison with a B.A. in Business Administration and Communications. Amy later earned her elementary teaching certificate from Monmouth College. Amy fell in love with the mountains during family vacations, so she chose to attend college in Colorado. She returned home in 1991 to marry John and doesn't regret that decision for a second!
In the past, Amy has worked for Munson Transportation, Monmouth College, and Head Start of Southeast Iowa. She also taught for PASS Alternative before beginning her employment at West Central in 2007.
In her extra time, Amy can usually be found cheering on their children at various activities and sporting events. She's also fortunate to live close enough to visit her grandma and two great-aunts!
Amy enjoys making their house feel like home! Even though she didn't grow up in Henderson County, she feels very connected to the community because of family ties to the area. She can literally see the home where her grandma was born from their upstairs windows! Amy has many perennials that have been moved from generation to generation of her family in her own yard.
As much as possible in warmer weather, Amy loves to be the "backseat driver" on their Harley. Amy "dragged her feet" on getting the motorcycle for quite awhile, but finally gave in. It didn't take long for her to discover how much fun a motorcycle can be! It's something that Amy and her husband enjoy doing together!
For Valentine's Day this year, her husband surprised her by getting her old circa 1987 steel mountain bike overhauled! She had casually mentioned to him in conversation last fall that someday she'd sure like to drag that bike out of their machine shed and get it road ready again. John proved to her that he does listen and hear what she has to say because he was pretty sneaky about loading up the bike without her realizing! This bike was her only personal mode of transportation for four years of living in the mountains of Colorado-even in the winter! She has decided to wait on getting out there on her bike now until the snow melts! Wave if you see her!
Amy has always enjoyed travelling and the outdoors. Her family enjoyed trips to the Dubois and Jackson Hole, Wyoming areas while she was a child, as well as the Brainerd, Minnesota area.
Amy was also fortunate to get to travel with her grandparents to places like California, Niagara Falls, Gettysburg, Washington D.C., Colorado, and Idaho. Those trips have left her with so many wonderful memories! One favorite vacation with her husband and children was a week-long tent camping trip to Yellowstone & Grant Teton National Parks with family friends (and a few bears)!
Another favorite destination is Colorado, as Amy has friends living there who are like family to her. One of her favorite motorcycle trips was touring Colorado and Utah, particularly the Arches National Park area around Moab, UT.
They also love walleye fishing at the Lake of the Woods near Baudette, Minnesota, as it was a favorite family vacation destination from her husband's childhood and they wanted to pass those memories to their own children.
Amy grew up in the First Lutheran Church in Monmouth. She and her family now attend the Bethel Lutheran Church in Stronghurst, which is also the same church where her grandma was raised! Amy is a member of the church board, chairman of the Education Committee, and also co-leads a youth group with the Methodist Churches of Stronghurst, Gladstone, Biggsville, and Oquawka. A native of Warren County, Henderson County now feels like home!
---