The Hancock-Henderson Quill, Inc.
---
Take "The Quill" Along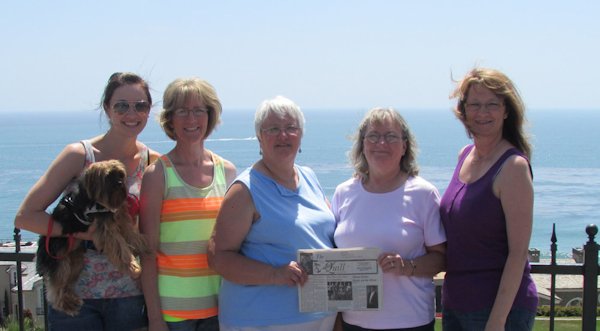 Sisters Peg Durst, Cindy Humes, Patty Howell, and Becky Smith, along with Cindy's daughter Jessica Smith took "The Quill" along to Orange County, California. The ladies left La Harpe on Friday, May 24 for a 4 day road trip and enjoyed visiting family along the way in Nebraska and Colorado. While in California they enjoyed lunch with cousin, Connie Jo Johnson and husband, Rodger and a visit with La Harpe native, Jennifer (Kern) Jenkins. After a sunny, relaxing week at the home of Jay and Jessica Smith in Ladera Ranch, CA the four sisters flew home on Saturday, June 1.
From left to right: Jessica Smith, Becky Smith, Peg Durst, Patty Howell, and Cindy Humes
When you go on a trip take "The Quill" along and have your picture taken with it and then send it to us.
---