The Hancock-Henderson Quill, Inc.
---
Meet Your Neighbor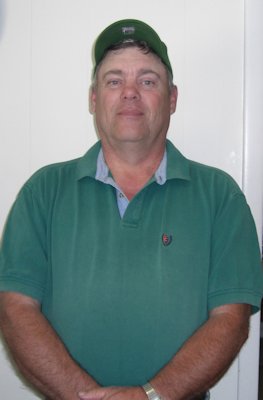 Meet your neighbor Bradley Flatt.
Brad lives between Media and Stronghurst on a farm not far from his parents, Meredith and Bonnie Flatt.
Brad's grandparents are all deceased. They were Elmer and Edith Flatt of rural Media and Rolland and Dorothy Stinemates who lived in Warren County on the Ponemah Larchland blacktop south of Monmouth.
Growing up on the farm, Brad started his education early learning all about the farming business. He now grows corn and soybeans and raises cattle and like so many this year is trying to get some hay put up. It is really growing this year, but needs to get dry to bale it.
Brad graduated in 1977 from Southern High School and enjoyed all the sports they offered at the time. He played basketball, baseball, football and ran track in the spring. He kept busy with that and farming.
After high school he attended Southeastern in Burlington, IA and graduated in 1979 with a degree in Agriculture Production.
His sister, Stephanie Sims works at the Warren County YMCA and is married to Matt, who works for Kleines in Galesburg. She is two years younger than Brad and they live in rural Monmouth.
Brad married Rhonda Nichols on 8-8-98 at the Stronghurst Methodist Church where they are still members. They went to school together and have "always" known each other.
Rhonda is the daughter of Melvin and Jean Duncan from Stronghurst. She now is the secretary for two of their "besides farming" businesses in Stronghurst, "Stronghurst Repair" and "The Flatt Tire" and she is called on to help with the farming occasionally.
Brad has two step children who have added grandchildren to their lives! Travis Vancil is married to Michelle (Cline) and they have a son, Grant who is two years old. Chandra is married to Todd Woodbury and they have Peyton (6) who will be in first grade and Connor (9) who will be in fourth grade this fall at West Central Elementary School.
Brad is the Assistant Fire Chief of the Media Stronghurst Terre Haute Fire Protection District and of the Biggsville Fire Protection District. He serves on the United Methodist Church Council and The West Central Farm Service Board and he is a member of the Stronghurst Lions Club.
In his spare time, he and Rhonda enjoy watching auto racing and they often can be found at the 34 Raceway in West Burlington, IA. Being on the farm there are not many opportunities to get away, but every year GrowMark, a division of Farm Service, has a meeting at the Chicago Hilton.
They enjoy going and have time to explore the city and do other things. There is so much to see and do in the city.
This has been quite an historic year for farming and Brad is just looking forward to seeing what comes next::
---