The Hancock-Henderson Quill, Inc.
---
Meet Your Neighbor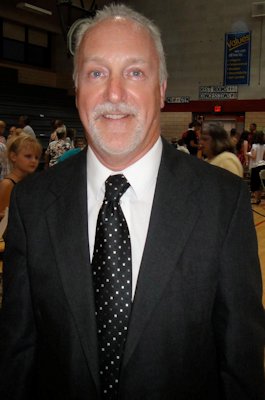 Meet Your Neighbor, Mr. Jeff Nichols was born and raised in Ursa the fourth of five boys of Dale and Dorothy Nichols.
Dale died when the older boys were in their twenties. Mom still lives in Ursa.
His brothers were Dave, who recently had a birthday and is still "under 60'. Denny and Danny, twin boys came next, then Jeff. His youngest brother Jim came along after a long wait He was worth waiting for!
The four older boys were all in high school at the same time and played varsity football. Jeff even played varsity as a freshman.
Several families in the area had boys who also were on the field at the same time the Nichols boys were. The Turners had three, the Woodworths had three and the Shaffers had three:.but the Nichols still had the most from one family out there!
As Jeff said, they played all other sports also, and their dad was a big influence in their love for sports.
He only knew one grandmother, his mother's mother, Sadie Helen Lymenstall, and remembers her as a big Cardinal fan. Another family sports connection! Most of his family is still around the Quincy area.
Jeff graduated from Unity Community High School in Mendon and did undergraduate work at Western Illinois University in Macomb, graduating in 1981. He earned his advanced degree from Western in 1997 while also working at the former Southern High School in Stronghurst.
He began there as an Industrial Arts Teacher and was Athletic Director and Physical Education Teacher. Since sports were a big part of his life, he was the girls basketball coach and assistant high school softball coach. Coaching the boys track was also on his busy schedule.
He has begun his tenth year as principal of the West Central Middle School and he loves going to work everyday. There might be many things wrong in this world, but the students at West Central Middle School have a big benefit over others because of the dedication of Mr. Nichols and of course their other teachers too.
Jeff has been married to the former Kathy Anderson from Monmouth for twenty years and they were introduced by a friend of a lady Kathy was babysitting for. That friend knew Jeff and just thought that introduction was necessary:: and yes it was.
Her parents are Trafferd and Louise (Krogmeier) Anderson and they live in Monmouth. Louise is formerly from Montrose, Iowa.
Jeff and Kathy were married at the Immaculate Conception Church in Monmouth and they have three children. Casey (Jeff's daughter from his former marriage) is a registered nurse at OSF hospital in Monmouth and she lives in Stronghurst. Catlyn will be a senior and Curtis will be a sophomore at West Central in the fall. Kathy has a day care for children in their home.
For vacations they enjoy visiting family in Colorado, Arizona, Utah and they have a time share in Florida they use one week in the summer. They really enjoyed a trip to the Grand Canyon and love the mountains.
One of Kathy's brothers lives in Monticello, Iowa and her other brother lives in Denver, Colorado so they visit them on occasion, as well as the families in the Quincy area.
As a family everyone goes different directions at times, but there are so many chances for "day trips' in our area, that's what they do when they can get away.
Their family attends St. Patricks Catholic Church north of Raritan.
---