The Hancock-Henderson Quill, Inc.
---
US Veteran Monte Geddes, Shares His Thoughts On The Korean War
It is the 60th Anniversary of the "Cease Fire" in Korea (July 27, 1953) when many in our U.S. military served during the Korean Conflict, which later was declared to be a war by Congress.
"The Quill" is reflecting on that period of time through the eyes and words of Allan â"Monte" Geddes, Mediapolis, Iowa, formerly of La Harpe)
Korea, Looking Back
BY Allan M. Geddes
Going to Korea in late 1952 was an experience I will not forget. After a furlough at home, Rodney Swanson and I drove a car back to California for someone whose name I cannot remember.
This person paid half the gas and Rodney and I split the other half. It cost us $13.00 each for gas. Try that one in today's market.
My troop ship took 12 days to go from San Francisco to Japan. We were in Japan for 24 hours and back on a ship to Korea.
I sent my parents a picture of me with my M-l rifle and a short note confessing I have done a lot of things wrong in life, but thank the Lord joining the Navy was not one of them. It would take half the U.S. Army to get me on a sea-going ship today.
Going over as a replacement is something to remember. Once I got to my artillery battery it wasn't long before I felt much better. I got acquainted with a bunch of guys that while I didn't exactly care for them then, we have become lifelong friends.
To live in a bunker with ten other men, a pot bellied stove and gear made for zero privacy. To take a bath with your helmet on top of the stove was not an ideal situation.
At our battalion reunion a few years ago, five of my bunker mates were together. I asked them if we were in that bunker with the army today wanting to place women in there, what would happen. We all agreed it was a stupid idea and someone would probably be killed.
Not only strangers, but I ran onto several men who I knew from Hancock County. One day, while taking our howitzer up front, we had a close call going uphill around a curve. We almost run a jeep off the road.
As we went slowly by the jeep, there set Wendell Link from La Harpe. I called out to him and he answered and a few days later he got over to see me. Wendell who was in California with me, was one of the first to leave for Korea.
Today, when I think of Korea, I think of how many times I would give a month's pay to get four hours of sleep. There were bad things, but on the other hand a heck of a lot of funny things happened. These are the things we laugh about at reunions yet today.
One of the greatest things today is everyone's appreciation for the military. Twenty years ago at one of our battalion reunions five of us were in the lounge with our Commanding Officer.
On TV they were interviewing some of our people, and as we got up to leave, a table full of people called us over. They asked if that was some of our people on TV and we told them "yes" They got up shook our hand and thanked us for our service. As we walked away my Commanding Officer told me that had never happened to him before, and I had to agree.
The men I truly feel sorry for is the Vietnam Vets who came back to people calling them "baby-killers" and spitting on them.
I cannot believe Americans would do this, but I have heard it too much and I hope I never hear of it again, because these guys went through hell.
In August 2012, the 780th FA Battalion had our reunion in Manhattan, KS. We went out to Fort Riley and spent most of the day with the troops there.
I climbed into a 155mm self propelled howitzer and spent almost an hour with the crew.
In Korea we had a 203mm towed howitzer which has been done away with by the army.
What a great bunch of young men I met inside that howitzer.
For every question I ask them, they ask me two, and as I told my wife, I was no longer 81 years old but 20 again, trading information, jokes and barbs back and forth with those guys.
Later, I talked to a Sgt. in full combat gear and I was asking him about the weight and how hot it was. He told me to come in the building there and he would suit me up with it. I didn't take him up on it but I was amazed at the equipment, how they did things and the pride these men displayed. I cannot begin to tell you how proud I am of them and we all should be very thankful for them.
In closing this I have one wish that I would like to see while my feet are still on the ground. I would like to see the United Nations done away with and get that organization completely out of this country.
The United Nations have done nothing for the U.S. but has cost us great amounts of blood and money. They are a worthless organization that has not stopped wars but only cost us, the U.S. too much.
To set across a table from someone and know he is supporting your enemy does not make sense. In Korea I got a Russian Nagant rifle with Russian marking all over it that most communist troops carried. I filled out forms so I could send it home but the army rejected my request. They stated it would be embarrassing to a foreign power if civilians got to see this rifle. It is ok if they shoot you with this but do not show it to the folks at home.
Now many of our great leaders would like to give in to the U.N. and have us sign on to the U.N. Arms agreement. I will be polite, "To heck with the U.N."."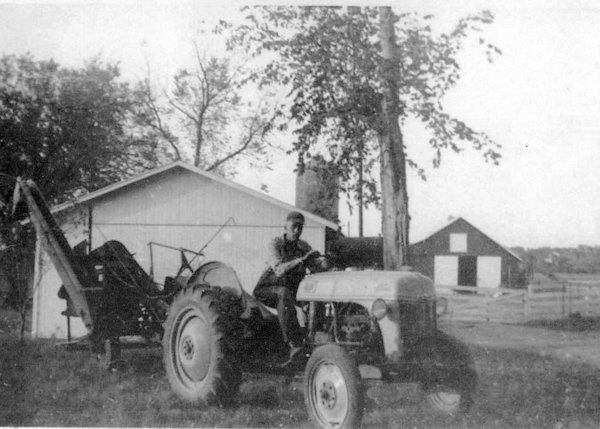 "This is me (Monte Geddes) on the Ford tractor with a new corn picker behind. No more shucking corn by hand! Best news ever! I arrived home in La Harpe in early September 1953. Within a week, I used my mustering-out pay, that I had saved in the Army and a little extra to buy a Woods Brothers Corn Picker from Don Anguish in Dallas City, IL. Don, too, was in Korea, and we saw each other a couple of times." -Monte Geddes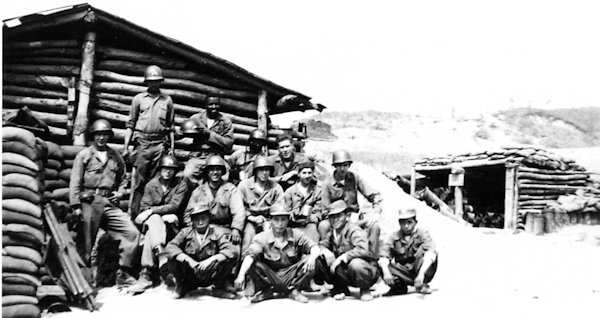 Our Home: This was my bunker which 10 to 12 of us lived in. Under the roof of this bunker was over four feet of dirt and sand for protection. In this picture, several have soft caps on instead of helmets. These were "KATUSA" Korean Augmentation to the United States Army. They were issued helmets a couple of days later. They were sharp troops and while language was a problem, I am sure they later became leaders in the ROK Army. To the right is our powder bunker.
---