The Hancock-Henderson Quill, Inc.
---
Meet Your Neighbor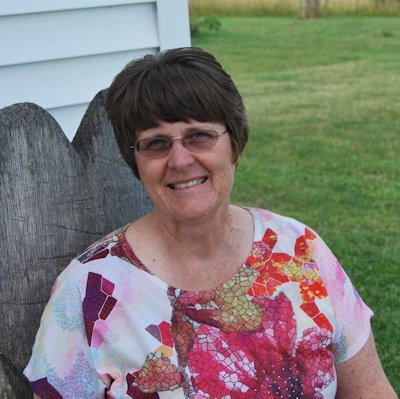 Meet your neighbor Diane Marie Stumphy.
She was born in Aledo when her parents, Maynard and Donna Ricketts farmed near Seaton in northern Henderson County. They now live on a farm in Rozetta Township, Henderson County but have a Kirkwood (Warren County) address.
She went to the Country School by Reed Cemetery for 1 ½ years before a storm blew the roof off, then she and the other students continued their education at the Biggsville grade school. She then finished at Union School graduating from high school in 1977. While in school Diane sang in the chorus and played the clarinet in the concert and marching band. The Future Homemakers of America was a group for girls then and Diane enjoyed being a member, though she learned most of what she knows about cooking, sewing, etc. from her mother!
She received an associates degree in business from Carl Sandburg College in Galesburg. Her fathers parents were Glenn and Mildred Ricketts who farmed in Henderson and Mercer Counties and last lived and farmed near Joy. Mildred died before Diane was born. Her mothers parents were Glenn and Mildred Rubert who operated a lime and rock trucking company in Aledo. Maybe you noticed her grandmothers were both Mildred and grandfathers were both Glenns. That doesn' t happen often.
Diane worked at Jills Hallmark in downtown Monmouth for a year then went to work at Warren Achievement School as a sub teacher's aid for a year. Then she went to residential. She is a Residential Specialist and has been there a total of thirty-one years. She has seen many changes in the state and federal regulations and involvement. Some good and some not so good, but it is overall a positive thing for Monmouth to have such facilities.
Diane's daughter Kara will begin her Junior year at Northern Illinois University in Dekalb this fall. Diane is very proud of her accomplishments. Kara was on the deans list the first semester. She is studying to be an elementary school teacher and hopes to return to this area when she graduates. She is engaged to marry Caleb Keating from Alexis, and when she graduates they will plan their wedding.
Diane has a sister, Linda (Chuck) Melton who lives in Wataga and works at Bridgeway in Galesburg. Chuck is a watchmaker at Eichhorn Jewelers in Galesburg. They have two sons, Jason and Shaun. Diane's boyfriend is Randy Eggen originally from North Dakota and he lives in Monmouth now. He is employed by Farmland. Randy and Diane enjoy camping at Young's Lake on weekends and when there is a car show somewhere, they go! They both enjoy vintage cars and Randy has a black 1968 Chevrolet Corvette.
Diane is a member of the Rozetta Baptist Church and presently helps Mary Allaman with the three and four year olds in Sunday School. She has traveled with the mission team to West Virginia twice, to Atlanta, Georgia, to Granada, and to the Chicago Rescue Mission. Rozetta has held a revival type mission program and Diane has helped with that. She also helps with Vacation Bible School every year and has been a crew leader but for three years has been serving the snacks in the kitchen along with a bible lesson.
Diane's family is very close. Her mom's side gets together three times a year - at a cousins in Warrenton, Missouri for Thanksgiving, at a cousins in LaSalle for Easter, and at her sisters for Christmas. The Friday after Thanksgiving all the cousins on her dad's side of the family get together. Her dad's side also has a family reunion in July every year. They recently set a record of sixty-seven people attending. One of the fond memories Diane has of her childhood is when she and her cousins all roller skated in an aunts basement. It was a big basement with the stairway in the center and a good traffic pattern. She learned to skate on cement.
Another member of Dianes family is Buddy, their toy poodle. He is eleven years old and when he was two months they almost lost him. He had a blood disorder and had to have a transfusion at the University of Illinois Veterinary Hospital. He got cured and has lived a good healthy life since then.
Dianes life is very busy and full and she looks forward to seeing what God has planned for her each day.
---