The Hancock-Henderson Quill, Inc.

---
2013 Summerfest Salutes La Harpe Davier Health Care And Their 35th Anniversary
SUMMERFEST HONOREE
The La Harpe Golden Rule Club and La Harpe Lions Club are saluting their local health care institution that has been so important in providing a nursing home facility to the community-La Harpe Davier Health Care.
Celebrating its 35th anniversary this year, La Harpe Davier Health Care has continued its outstanding commitment in meeting the health concerns of local residents as its predecessor "The La Harpe Davier Hospital," founded by a generous gift from Mary Davier who was raised outside La Harpe in nearby Disco
Funds became tangible at her death July 21, 1910 when the reading of her will disclosed a bequest of $30,000 to the city of La Harpe to be used to construct a hospital.
After a twelve-year court battle by heirs, a $23,000 settlement was left for the building of the hospital which was rightly named after its major donor and dedicated in November of 1923.
After many successful years serving a large area, the second half of the century "brought stricter state and federal regulations of all medical facilities resulting in the necessitated," closing of the surgical and obstetrical departments in December of 1966 after the first baby had been born there forty-three years earlier November 30, 1923-twin sons to Mr. and Mrs. William Kern.
La Harpe Davier Health Care came out of a need for a nursing home and an extended care facility.
In 1974 plans were launched which included demolition of the original building and in a few months $415,000 was pledged with the sum supplemented by a loan from the Farm and Home Administration.
An elaborate plan (shown in the drawing here) was tweaked to its final design in the facility that is used today.
Construction began in May of 1975 for fifteen medical beds, and forty-nine long-term care beds in the new south and west wings with administrative offices and food service moved into the center of the facility rather than shown in the photo.
The lower area of the north wing contained emergency rooms, the x-ray department and laboratory, doctor offices, the heating plant and the maintenance department and planned for a work-force of sixty professionals and non professionals. It is the same number of employees that is employed today (2013).
In addition to the above, there were rooms constructed for activities, lounge area, meditation room, and beauty shop, examining rooms, physical therapy area, nurses' station and more with the whole project staying very close to its original plans.
While meeting the strict regulations and building through the winter, the project stayed on schedule on was ready for the anticipated day of its grand open house, January 22, 1978, (thirty-five years ago).
And again, the community response was outstanding with over a thousand people taking advantage of the nice weather to visit the newly completed" La Harpe Hospital and Extended Care Facility" during the four hour afternoon open house.
The event, planned by a committee from the hospital board and the local Lions Club, gave visitors the opportunity to tour the whole facility and meet the staff, ask questions and to enjoy refreshments.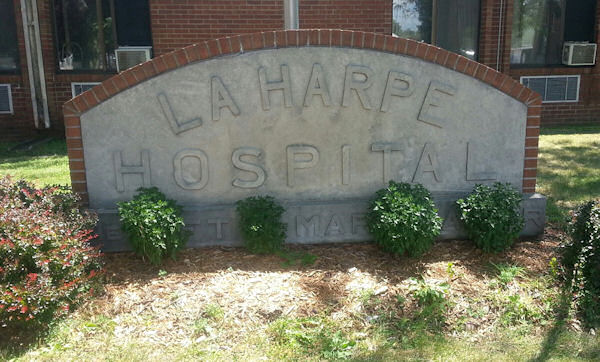 "The Quill" reported the event mentioning "the many bouquets sent by well-wishers" and the "tremendous" response from the local ministerial association who asked for cookies and received over 3,000 donated for the occasion.
The event was televised and board members and the acting administrator were among those interviewed.
Among the dignitaries who attended were Representative C. E. Neff of Stronghurst and Representative Sam McGrew of Galesburg, the Administrative Assistant of Blessing Hospital, Quincy Sue Elmore, and Director of Long Term Care Unit of Mt. Pleasant, Iowa Hospital, Diane Dunblazier Wickham.
Letters of congratulations were sent from Illinois Governor Jim Thompson, and U.S. Senator Chuck Percy of Chicago.
It is amazing how the gift of Mary Davier has continued to inspire the giving and maintaining of a health care facility for all these years. It has not only met the health needs of many but has also provided many jobs.
The list of employees included many medical professionals, maintenance and housekeeping workers, as well as a long list of volunteer ambulance drivers.
The acting administrator was Jeff Hausler, Assistant Administrator from McDonough District Hospital. Chief of Staff was Dr. B.I. Mueller. Cindy Starbuck was Director of Nursing over many registered and licensed practical nurses and nurse assistants.
The board members for the facility were Vera Painter, Lois Howd, Sam Rodefer, Paul Edmunds, Bud Weaver, Glen Kern, Ted Irish, Bill Housewright, and John Louden, Sr. with Harry Bennett, Jr. President.
Out of respect for its original donor, Mary Davier, the (LaHarpe Hospital-Gift of Mary Davier) stone above was moved from the hospital sight and was set in the courtyard at the entrance of the facility and remains today. (Above is a photo taken this week for this publication by Ali Postle).
In May of 1982, a management contract was signed with Burlington Medical Center, a hospital in Burlington, Iowa, which has resulted in many cost savings for the facility, the recent history book reported.
It said that state and federal guidelines continue to be a source of frustration for the leaders of the facility who are committed to meeting the challenges, the Quill reported.
In 1986 the history book reports the active board as Steve Rodeffer-President;Larry Johnson-Vice President; Roger Jackson-Secretary; Alice Mapes-Treasurer; B.I. Mueller; Leslie McCoy; John H. Rodeffer; Vera Painter, and Jerry Ferguson.
Richard Miller was the Administrator, Valerie Morris, RN-Director of Nursing; Cathy Johnson, RN-Assist. Dir. of Nursing; Tom Mueller-X-Ray, Lab and Personnel Dept Supervisor; Marilyn McDowell-Business Office Supervisor; Max Quivey- Housekeeping and Maintenance Dept. Supervisor.
The La Harpe history book concluded in 1986 with this statement:
"Little did Mary Davier dream what would grow from her $30,000 bequest. How proud she would be to see the fine medical facility that has grown from her dream of sixty years ago."
Today, La Harpe Davier Health Care now serves its community as a Skilled Nursing Facility offering 24 hour Nursing Care, Therapy Services and personalized attention to its residents. Now part of the Petersen Health Care Family, since 2007, La Harpe Davier Health Care is a thriving business within its community.
It remains under the name of La Harpe Davier but is owned by Petersen Health Care which was founded in 1974 by two brothers, both of who were registered Physical Therapists, James D. Petersen and Robert L. Petersen.
The two flagship nursing homes the brothers purchased at that time were Kewanee Care Home in Kewanee, Illinois, and Robings Manor located in Brighton (Petersen Health Care still owns both facilities.)
Today, Petersen Health Care is the largest nursing home chain in Illinois and has become the name synonymous with quality long-term care throughout the Midwest.
In early 2002, Mark B. Petersen became the sole owner of Petersen Health Care. Mark has kept the corporate headquarters in Peoria, Illinois where he lives with his wife and three daughters. Mark joined his family's company immediately after graduating from the University of Colorado.
It has been Mark's life-long dream to follow in his father's footsteps. Mark had grown up around the family nursing home in Kewanee, Illinois where he had served on the staff in a variety of positions.
La Harpe Davier Health Care continues to embrace the philosophy that founded Petersen Health Care over 35 years ago.
The proven business philosophy of strong community involvement, "bringing the community to the nursing home and the nursing home to the community," is what makes this facility and community so special.
Through the year you will find the staff of the facility having fundraisers to support local families, resident events and deserving organizations such as St. Jude's.
"We are so fortunate to have a community that supports us." says Tammy Good, Social Service Director.
Janet Thompson, Dietary Manager said, "I can always count on a great turn out for our community events because in this area everyone is a friend or family member so we invite them all."
"We have several ladies that volunteer their time for our residents by playing the piano or calling bingo, we couldn't do it without them."
Angie Rodeffer comments. Our 'resident-care based philosophy,' is what makes La Harpe Davier Health Care unique in the industry and is the reason the company is renowned as the Midwest's Leading Long Term Care Provider.
In the past several years our small town facility has grown due to the loving support of our residents, families and friends. La Harpe Davier is one of Petersen Health Care's training facilities were new administrators for the company spend a week with the administrator Athena Brooks.
Brooks says "It's an honor to train new leaders for our company and you could not ask for a better environment than our facility! The staff are truly here for the right reasons and we have some of the best residents and families you could ever ask for.
"I enjoy mentoring and have always been an educator at heart but I love the compassion that comes with Long Term Care. Petersen Health Care allows me to have the best of both worlds."
Due to the facilities excellent survey history and compliance with the Illinois Department of Public Health, La Harpe Davier has become home to students of Carl Sandburg College for their clinical training in both the Licensed Practical Nursing and Certified Nursing Assistant programs.
Still employing over 60 individuals La Harpe Davier Health Care is still the Leader in Long Term Care for the area. The supervisor of Environmental Services Betty Asher, better known as Peanut, drives an hour one way every day.
When we asked her why she does it, she said "I've worked in places that are close to home but this feels like home and these aren't just residents and staff they are part of my family and that makes the drive worth it every day."
The team at La Harpe Davier Health Care would love to invite you to come visit them any time, Athena Brooks, Administrator said.
"We are all excited to be such a huge part of this year's Summerfest honoring our 35th year anniversary. I look forward to many more years of success and friendship."
---