The Hancock-Henderson Quill, Inc.
---
Take "The Quill" Along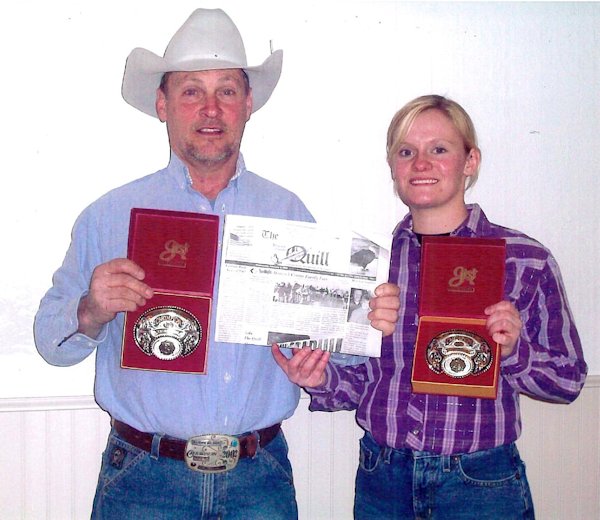 Mark and Celsey Link took "The Quill" along as they traveled to Bedford, Indiana monthly from March to November 2007 and participated in Indiana State Team Penning Association.
During these 6 hour road trips "The Quill" would ride along and provide entertainment. Team Penning is an equestrian sport in which team members of 3 mounted on horses are given a number and have to sort 3 cattle from the herd and, place them in a pen at the other end of the arena in 60 seconds.
Mark and Celsey received matching Amateur and Novice Buckles from the National Ranking System for being high point earners in their divisions. Most recently they have competed in Ranch Sorting, 2 team members 250 foot round pens connected with a 12' gap and 10 head of cattle that must be sorted in order, and have hosted events at their family farm Spring Creek Equine Facility (you can find them on Facebook) in Brimfield, Illinois.
The best part is that the whole family from 3 years to 60 has gotten involved. The Ranch Sorting National Championships (RSNC) was recently held in Fort Worth TX in which Celsey competed and won 6th place in a class of 396 teams and 8th place in a class of 220 teams.
When you go on a trip, take "The Quill" along and have your picture taken with it and then send it to us. Let's see where all "The Quill" can travel.
---