The Hancock-Henderson Quill, Inc.
---
Meet Your Neighbor
by Laura Chockley, The Quill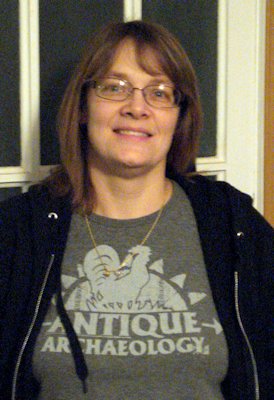 Meet your neighbor Peggy Chockley of Stronghurst.
Peggy was born on December 19, 1963 in Washington, Iowa to Dave and Barb Williams.
She married Eric Chockley on October 20, 1984 in Washington.
Eric serves as the mayor of Stronghurst and also works for the Burlington Northern Santa Fe Railroad as an engineer, which he has done for about 19 years. Before becoming an engineer, Eric was a machinist for BNSF Railroad in West Burlington, Iowa for 6 years.
Eric and Peggy have 2 sons: Abe (Laura) Chockley and Andy (Lauren) Chockley. Abe is employed by BNSF Railroad as an engineer like his father. Andy also works for the railroad, as a machinist in the shops in Galesburg.
Peggy's father, Dave (Barb) Williams, was a very hard working and self-motivating individual. When his dad decided to retire, he took over William Sinclair, a gas station his dad started.
Later, he built his own mechanic shop, which he called Williams Radiator, located right next to their home in Washington. Later he sold his radiator shop and started a wood working shop called Wood, Etc., which kept him busy for five years after he retired. Peggy's mother, Barb, was employed as the school secretary in Washington until she retired.
Peggy is one of six children. She has two sisters and three brothers. Connie (Bill) Gorius and is employed at the Wesley Hospice House in Ankeny, Iowa. Younger sister, Jennifer (Byron) Smith, works in the kitchen at the Hacycon House in Washington.
Brothers: Jim, Mark, and Dennie are all in the construction business in some way. Jim (Ann) Williams owns his own construction business and moving business. He also farms in his spare time. Dennie works on a road construction crew and pours cement throughout the Iowa City, Iowa area. Mark also works road construction where he lives in Hillsboro, Texas.
The late Earl and Juanita Redlinger, and Keith and Ruth Williams were Peggy's grandparents. They all resided in Washington.
Peggy graduated from Washington High School in 1982. She played basketball, and participated in office education, which was an after school activity.
The participants competed locally, and if they advanced, competed in state and sometimes national competitions. She remembers traveling to Nashville, TN for a typing competition.
She attended Southeastern Community College in West Burlington, Iowa right after high school, where she graduated with a medical assistant degree.
She is currently employed through Great River Medical Center in West Burlington, Iowa. She first worked as a phlebotomist for four years, then worked in the oncology department for ten years, and is now back to working as a phlebotomist and has been for the past eleven years.
Peggy enjoys quilting, scrap booking, baking, reading, and spending time with family and friends. She attends the Stronghurst Christian Church.
When asked about family vacations, she remembered one trip in particular. When she was 17, her family traveled to St. Louis, MO and spent the day at Six Flags and Grants Farm petting zoo. Her favorite vacation was going camping. She said â "Every weekend we had free, we would spend camping out near Lake Darling in Brighton", which is about ten minutes from Washington.
One of her favorite family traditions was during Christmas time. Every year her family would get together to celebrate Christmas on Christmas Eve. "I would always look forward to Christmas Eve, it was my favorite time of year."
When asked about her future plans, she responded, "Spending more time with my family and of course, to spoil my (future) grandchildren."
Lauren and Andy are expecting their first March 4th.
---