The Hancock-Henderson Quill, Inc.

---
Meet Your Neighbor
by Laura Chockley, The Quill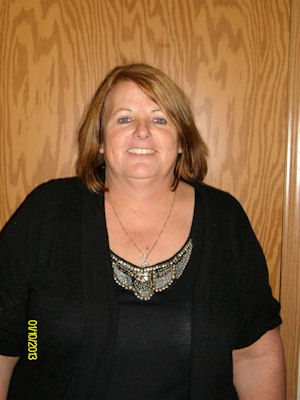 Meet Your Neighbor Janine Harkness of Carman.
Janine was born in Peoria and later moved to Carman when she was in the seventh grade.
Her parents are Glenda and the late Jerry Edenburn. Jerry was a self-employed contractor. He did many local jobs. During the summer in her spare time, Janine would always help her Dad with construction jobs. Glenda is retired from the Klein Center in Burlington, Iowa where she worked in the food service department.
Janine,s grandparents were Albert and Letha Edenburn of Peoria, and Howard and Kora Lane of Bartonville.
She graduated from Southern High School in 1982.
She went on to receive her Associates Degree in early childhood education from Carl Sandburg College.
Janine married Kenny Harkness on May 25, 1985. She is recently widowed. Kenny died in August of 2011. Kenny worked as a surgical tech for many years at Great River Health Systems in Burlington, Iowa. Together, Kenny and Janine had three children: Amanda (Harkness) Liggett, Josh Harkness, and Alyssa (Harkness) Hawk, recently married to Josh Hawk in August 2011.
Janine has two adorable grand daughters, Dustie and Rozella Liggett.
Janine had one sister, the late Leslie (Edenburn) Linder of Carman. She worked as an administrative assistant for Great River/Rehab Services in Burlington, Iowa. Leslie's husband, Marvin, is like a true brother to Janine. He is employed as an engineer for Casebine in Burlington, Iowa.
She is employed full time through the Henderson, Mercer, and Warren Regional Office Of Education as a site coordinator for the 21st Century After School F.I.R.E. Program for West Central Middle School (Future Investment Reaching Everyone). She has worked with them for eight years. The program offers free tutoring and after school activities for junior high and high school students.
Her previous job was at the Head Start in Monmouth for eight years.
Janine and her family have always loved the river life. "I practically grew up on the river," she said. "Our vacations were time on the river with family." From fishing, to sunbathing, to swimming in the murky waters of the Mississippi, the Harkness family would always spend much of their summer on the water.
She loves spending time with her family and two grand daughters.
Her future plans include watching her grandchildren grow up and spending more time on the Mississippi, of course.
She is also looking forward to more grandchildren from newlyweds, Alyssa and Josh Hawk, as well as her son Josh.
---