The Hancock-Henderson Quill, Inc.
---
Take "The Quill" Along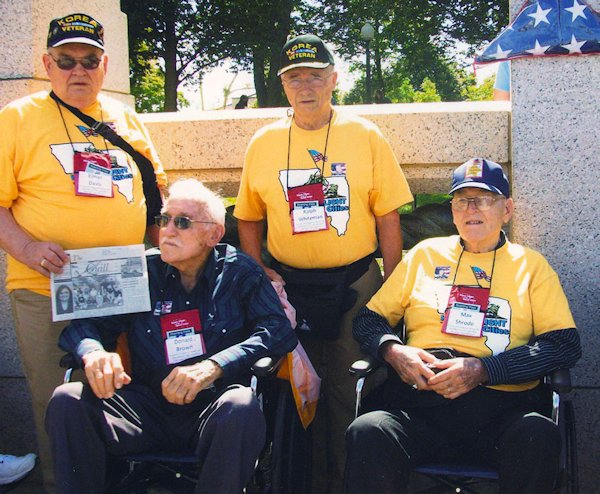 Leroy Davis of Oquawka was lucky to be on the Honor Flight out of the Quad Cities on September 20, 2012. He stayed at the Fairfield Inn in Moline on Wednesday night prior to leaving the next morning for Washington, D.C. The next morning before getting on the shuttle bus he heard a gentleman say that he was from Oquawka. Right away Leroy went to him and introduced himself and the comrad said his name was Donald Brown. Davis, explaining, that he had brought the Henderson County Quill with him, invited Brown to have his picture taken along with him and "The Quill".
From left is Donald Brown in wheelchair on the left, and Leroy Davis behind him with the paper. Also, in the other wheelchair was Max Shrode and behind him was Ralph Whiteman who were both from Monmouth. It was a wonderful flight with perfect weather and a trip that the fellow veterans will never forget.
When you go on a trip, take "The Quill" along and have your picture taken with it, and then send it to us. Let's see where all "The Quill" can travel.
---