The Hancock-Henderson Quill, Inc.
---
Meet Your Neighbor
by Joyce Wolf, The Quill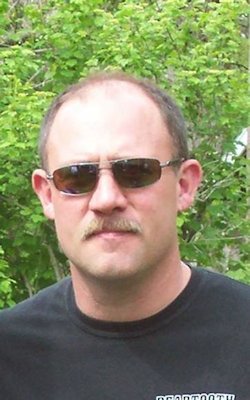 Meet your neighbor, John Wolf. He was born in Monmouth, son of Bruce Wolf (Joyce), Kirkwood and Susie Hawkes (Len), Monmouth. He grew up on his parents' farm in rural Kirkwood. John lives at rural route Biggsville with his wife Amy, daughter Kristin, 16 and son Sam, 13.
John and Amy K. Bergren were married in the First Lutheran Church in Monmouth in 1991 and lived in rural Kirkwood before moving to their present home southwest of Biggsville. Amy is a third grade teacher at West Central Elementary. Kristin is a junior at West Central High and Sam is an eighth grader at West Central Middle School in Stronghurst.
John has one sister, Becky (Dian) Crabill, Springfield, one step-brother, Jeff Gardner (Rosemary), Galesburg, and one step-sister, Julie (Steve) Lung, Sanford, North Carolina.
John graduated from Yorkwood High School in 1985. He was a member of the Ever Ready 4-H Club and in wood shop he made a grandfather clock out of walnut (not a kit), entered it in the Illinois State Fair and got a blue ribbon. That clock is in the foyer of their home. His football team won the State Championship in his junior year. Football was his favorite sport, but he also enjoyed water skiing, snowmobiling, and four-wheeling. Driving tractors and other machinery on the farm didn't seem like 'work' because he enjoyed it. John enjoys working with his hands and the challenge of solving problems. He can build or fix just about anything!
John farmed with his father for several years. He and his dad had a large farrow to finish hog operation. When the hog market went south in the mid 1990s, John decided it was time for a change and purchased his own semi tractor and trailer. He then hauled grain and other ag related products. He bought an additional truck and operated Wolf Trucking for several years, where they hauled not only grain, but also rock, lime, fertilizer, coal, sand, and asphalt.
He was an owner-operator, and did his own mechanical work. Hard work and long hours are a big part of the success he has realized.
In 2004, John was hired by Big River Resources in West Burlington, Iowa, and has been the plant manager there since 2007. Since John has worked with Big River Resources, they have built/purchased three additional ethanol plants, as well as a few grain elevators. He is responsible for overseeing the West Burlington, IA ethanol plant.
As much as possible in warmer weather, John and Amy take off for a day trip on their motorcycle. John also spends his extra time making improvements to their home and acreage. John Deere tractors are his favorite, including some of the older 2-cylinder tractors. Agriculture has always and will always be a part of him.
Home and family are a very important part of John's life. Having two teenagers creates many opportunities to join them at school and church. Ball games, track meets, swim meets, programs and contests and of course the social activities keep them all busy.
John has always enjoyed the outdoors, particularly fishing, hunting, and camping.
Some of their family's best vacations since childhood have been walleye fishing trips to the Lake of the Woods in northern Minnesota.
Colorado and Wyoming have also been vacation destinations, visiting longtime friends. One favorite vacation was a week-long tent camping trip to Yellowstone and Grand Teton National Parks with his family and friends (and a few bears)!
One of his favorite motorcycle trips was touring Colorado and Utah, particularly the Arches National Park area around Moab, UT. He has gone elk hunting with his father-in-law and brother-in-law to the Dubois, Wyoming area. John also allows time in the fall to share in the deer hunts with Sam and Dad and other family and friends. The hunting is sometimes not as important as the time spent with each other.
John grew up in the Kirkwood United Methodist Church. He and his family now attend the Bethel Lutheran Church in Stronghurst. A native of Warren County, Henderson County now feels like home!
---