The Hancock-Henderson Quill, Inc.
---
Meet Your Neighbor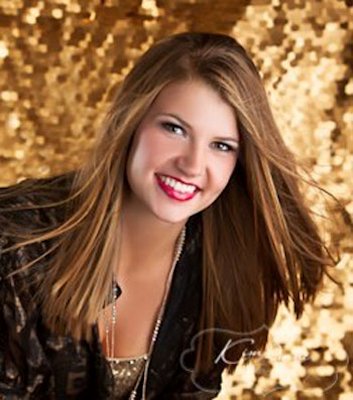 Meet Your Neighbor and Illini West Senior Jessica Fox of Carthage.
Jessica was born on November 21, 1994 at Memorial Hospital in Carthage.
She is the only child of Mark and Marilyn Fox. Mark works for BNSF Railroad as a conductor and a remote control engines operator. Marilyn is an R.N. at Dr. Edward McKenneys' office in Hamilton.
She is the granddaughter of Mary Ruth and the late Gene Thorell of Ferris and Jim and Marlene Fox of Carthage.
Jessica has been very active during her high school career at Illini West. She is the Senior Class President, and is involved in FBLA (Future Business Leaders of America). She is the Vice-President of the International Club, Key Club, and NHS (National Honor Society).
She is also the President of SADD (Students Against Destructive Decisions). She is on the Yearbook staff, and is the captain of cross country, basketball, and track teams.
Jessica is also involved outside of Illini West activities.
She is a junior member of the Chamber of Commerce, secretary of the Project Pals 4-H club, and a junior member of American Legion Phillip Harzell Post #74 Auxiliary.
She is a member of the Ferris Christian Church.
Jessica's hobbies include collecting key chains and novelty pillows, watching movies with friends and
riding BIG roller coasters (the faster and taller the better).
Her most recent vacation memory was swimming with the dolphins, stingrays, and other saltwater fish in Florida at Discovery Cove with her mom and dad.
Her most memorable high school moment was being crowned Homecoming Queen. That night she and her boyfriend took a 2011 Corvette ZR-1 that they had borrowed from a close friend of Jessica's mothers'.
They ate in Quincy, and then went to the mall. At the mall, Jessica found a scratch that
went all the way through the fiberglass of the car. She said she had a "mini heart attack". She called the owner and he said, "Oh, I forgot to tell you that happened last night!" They all felt instant relief. That,
she says was a memory no one in the group that they ate with would ever forget.
Jessica has achieved several accomplishments: she is on the High Honor Roll (4.0 GPA) throughout
her school career, she is an Illinois State Scholar, she was Charger of the Month- Senior Year, Student of the Week- Junior Year, and perfect attendance. She was class treasurer her sophomore and junior year, and was a State Track participant her junior year and 4-H Club President her junior year. She also was part of the team that was Basketball Regional Champions her junior year. She was Homecoming Queen and the 2012 Hancock County Fair Queen.
She was selected as one of the top homecoming queens in Illinois and this region of the country by America's Homecoming Queens National Pageant Registry, so she was able to go to the Liberty Bowl
in Memphis, Tennessee and participate in the pre-game and halftime show, tour St. Jude's hospital and participate in the parade on Beale Street.
Her plans after high school are still undecided.
She knows that she will be going to a 4-year college. Right now she is considering Central College in Pella, Iowa.
Jessica wants to stay close to home and go to a smaller school.
She is thinking about going into Pre-Vet or doing something with psychology, but those plans are completely undecided.
---