The Hancock-Henderson Quill, Inc.
---
Meet Your Neighbor
by Christy Kienast -The Quill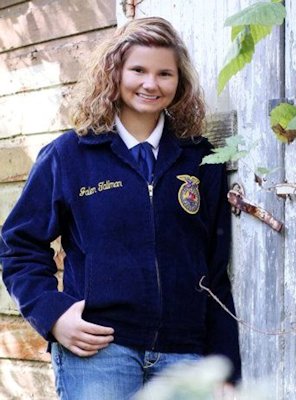 Meet your Illini West Senior Jalen Tallman of Lomax.
Jalen was born on July 7, 1995 in Fort Madison, Iowa.
She is the daughter of Mike and Heidi Ruebush. Mike is the manager of the Oquawka River Terminal in Gladstone and Heidi is a safety technician at Pioneer Hi–Bred in Good Hope.
Jalen has two brothers: Layton, 14 who is in the 8th grade, and Keaton 4, who is in Preschool.
Jalen is the granddaughter of Vernon and Peg Nixon of Keithsburg, Ray and Sheryl Tallman of Keokuk, Iowa, Larry and Diane Ruebush of Good Hope, and Debbie Ruebush of Peoria.
Jalen is keeping herself busy during her high school career. She is involved with 4-H, FFA and softball.
Jalen is currently the 2013 Illinois Draft Horse and Mule Association Queen. She spends her summers traveling throughout the area showing her pigs.
Jalen's hobbies include playing softball with Illini West and with The Midwest Magic, and chasing fairs whether it be with her pigs or with the Draft Horse Association.
Jalen's most memorable high school moment so far has been going to the FFA State Convention in Indianapolis, Indiana during her junior year with her friend Kelli Adkisson.
After graduation, Jalen would like to play college softball and major in Agronomy/Crop Sciences.
---