The Hancock-Henderson Quill, Inc.
---
Take "The Quill" Along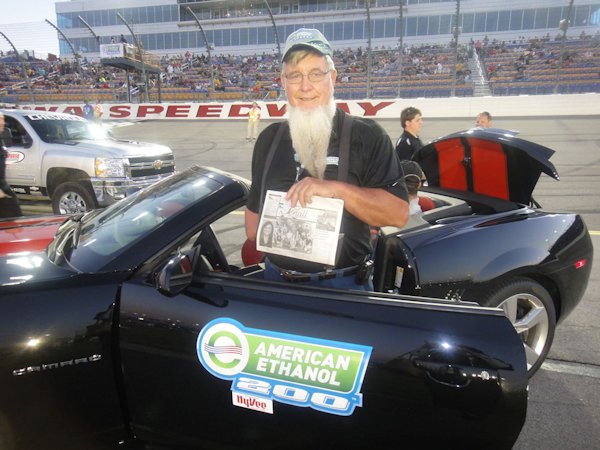 Ray Defenbaugh of Biggsville, took The Quill along when he was Grand Marshal at the NASCAR CAMPING WORLD TRUCK SERIES at the Iowa Speedway in Newton, Iowa, Sept. 15th.
Mr. Defenbaugh was given a preliminary ride before the time trials in the pace car at 100 mph, escorted to the Drivers Meeting as special guest, and he gave the traditional "Drivers Start Your Engines", and then led the racers with the Quill beside him, in two laps in the official pace car before drivers were given the green go-ahead flag for the 200 lap 175 mile race sponsored by American Ethanol.
Mr. Defenbaugh and "The Quill" watched the final laps of the race in the glass booth of Iowa Speedway owners Stan Clemens and Conrad Clemens and his two sons, and Rusty Wallace joined by Richard Childress and others.
When you travel, take "The Quill" along and have your picture taken with it and send it to us. Let's see where all "the Quill" can travel.
---