The Hancock-Henderson Quill, Inc.
---
Meet Your Neighbor
by Christy Kienast-The Quill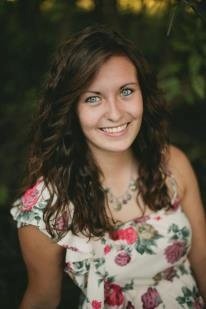 Meet your neighbor and Illini West Senior, Rachel Clayton of La Harpe.
Rachel is the daughter of Jim and Jeanne Clayton. Jeanne is the district secretary for the La Harpe School District. Jim is the pastor of the three local United Methodist Churches in La Harpe, Terre Haute, and Durham.
Rachel was born on October 14, 1994 in Terre Haute, Indiana. She has one older sister, Jenna who is a sophomore at Southeastern Community College in Burlington, Iowa.
Rachel's grandparents are Dorothy Stanley of Terre Haute, Indiana, and Jim Clayton of Tampa Bay, Florida and Sharon Gee of Plainfield, Indiana.
Rachel works as an intern for the Union Church of La Harpe. She has also worked for almost 3 years at M&M Farms outside of La Harpe.
Rachel is a 4.0 student and has been on high honors for her entire high school career. She has been selected as an Illinois State Scholar this year.
Some of Rachel's special memories during her high school years have been some mission trips that she has recently been on to Mexico and India.
Rachel says "They were both life changing, incredible events!"
Rachel's most memorable high school moment was an adventure in Happy Hollow with some friends.
After high school, Rachel plans to attend college somewhere and major in pre-med (still undecided).
---