The Hancock-Henderson Quill, Inc.
---
Take The Quill Along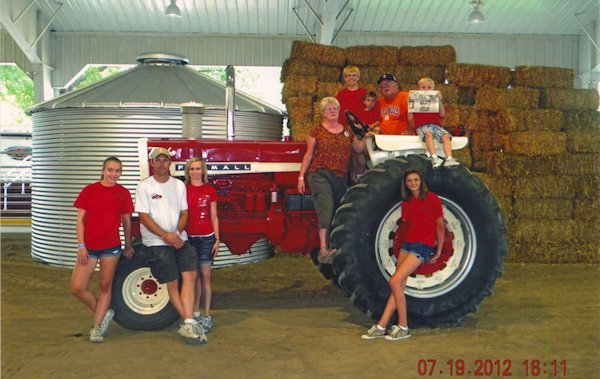 The Hugh Forbes family took "The Quill" along to the International Harvester Collectors gathering in DuQuoin, on the weekend of July 19-21, 2012.
The 23rd Annual Red Power Round-Up brought fans of Farmall's from 34 states and many foreign countries. This year's featured tractor was the Farmall 1206. These tractors, the first to utilize a turbo charger and break the 100 horsepower barrier, set new standards by which all other tractors would be gauged in the decades to come.
Pictured with their 1206 is the Hugh Forbes family from left are: Tara, Jeff, Krista, Sheila, Joshua, Hayden, and Hugh Forbes. Holding the Quill is Jackson Timmerman. Bottom right is Madison Stewart, a friend of the family.
When you go on a trip, take "The Quill" along and have your picture taken with it. Then send it to us. Let's see where all "The Quill" can travel.
---