The Hancock-Henderson Quill, Inc.
---
Meet Your Neighbor
by Laura Chockley, The Quill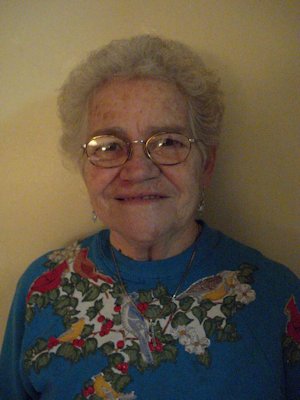 Meet your neighbor Fern Fude of Stronghurst. â"Howdy doody, my name is Fern Fude" (Foodee)
She was born one block north of Highway 34 in Creston, Iowa on April 14, 1935 to Glenn and Ruth (Kessler) Munday.
As an infant, her family moved to the hill country in Northwest Arkansas. Her parents built and ran the Wide-a-Wake 24 hour truck stop on Highway 71 in Winslow. As World War II developed, they moved to Davenport, Iowa for employment of government jobs and to be closer to relatives.
Fern married Jim Beach in 1952 and raised 4 kids there in Davenport. After she divorced him, she met a fellow student from the one room school after 25 years. His name was Jack (Shorty) Fude and together they had 2 sons.
Fern is an only child. She has 4 wonderful children from her first husband: Theresa (Don) DeVore of Davenport, Iowa, Mike (Bev) Beach of Rincon, Georgia, Keith (Barb) Beach, of Johnston, Iowa, and Janis (Dennis) Davies, of Normal. She has 2 sons with the late Jack Fude. They are Jay (Judi) Fude of Gladstone, Missouri and Joe (Chrystal) Fude of Dickinson, North Dakota. She has one step-son, Dennis (Donna) Fude and they currently reside in Green City, Missouri. When she last counted she has 20 grandchildren and 12 great grandchildren.
Fern and her family were a true military family. Jack (Shorty) Fude and their 2 sons, Jay and Joe served in the Airforce. Her son-in-law, Don Devore, retired from the Navy Reserves last year. Mike Beach was stationed in Savannah, Georgia and served 8 years there in the Army. Her other son, Keith served 4 years in the Marines.
During her life, Fern has lived in 45-50 places. "No place feels so much at home than Stronghurst. I feel like I want to pay something back to the wonderful people who have adopted me as one of their own. So that's one reason I'm running (whoa, I want to be honest here) at my age (77) I'm really walking for the job of village trustee." She thinks the current board is doing a wonderful job, and wants to be a part of it. With her varied working background, she feels she can be of service.
She started working before the third grade serving coffee and cleaning tables at the Wide-a-Wake.
Then she worked as a sales clerk at 5 and 10 stores and clothing stores.
She was also employed at a tire shop, a typewriter repair shop, she made screwdrivers, sorted seed corn, did bookeeping, was a secretary, did laundry, cooking, etc. at nursing homes as she studied for her CNA license.
She was licensed in Iowa, Illinois, Kentucky, and Florida.
She helped the men in her life with carpentry, auto repair, and also as a fishing guide. "You name it, I've probably done it."
Fern is a member of the Stronghurst Christian Church and volunteers at The Family
Outreach Community Center. She has been a hunter safety course instructor for the past eight years at the Big River State Forrest in Keithsburg. Fern enjoys reading, crocheting, gardening, flowers, C.B. radio, and listening to christian and western music. She is new to the computer and tries to learn more about them every time she uses one.
She has many memories of trips and vacations that she had been on with her husband and family. One of her favorite was when she visited Silver Springs Attraction.
She remembers how clear and blue the water was. They rode in glass bottom boats and she said "It was amazing, I could clearly see 90 feet down in the water."
She quoted Helen Keller "Don't forget we are all pencils in God's hand." She said she read this quote and has thought about how true it really is ever since.
Cardinals are always there for her. She said after her husband died there was a cardinal outside her window that sang to her.
Whenever she is down or needs a little motivation they always seem to know to find her.
"I just realized how far I've come in 77 years, with all my moving I've come from 1 block north of Highway 34 to 7 miles south of that same highway.
I now wish I had moved home sooner."
---