The Hancock-Henderson Quill, Inc.
---
Eighth Graders Regional Champs
On Thursday, January 31, the La Harpe/Dallas City 8th Grade Boys basketball team defeated the Hamilton Cardinals in an exciting Regional championship game played at Illini West gymnasium.
After a hard fought battle through four quarters of play, the Eagles were trailing by a one point deficit, 32-33, with 8 seconds to play in the game.
Brady Adkisson pulled down a critical rebound off of a missed Cardinal free throw. Adkisson then connected with Aden Trout with a perfect outlet pass; Trout found Jonah Burt with the cross court pass, and finally, Burt fed Jackson Porter at the three point line, where he nailed the three pointer for the win.
Excited fans spilled onto the floor as the team collected the championship plaque.
The Eagles will now advance to the Sectional Tournament on Wednesday, February 6, at Illini West at 6:00 p.m.
Great win, great game.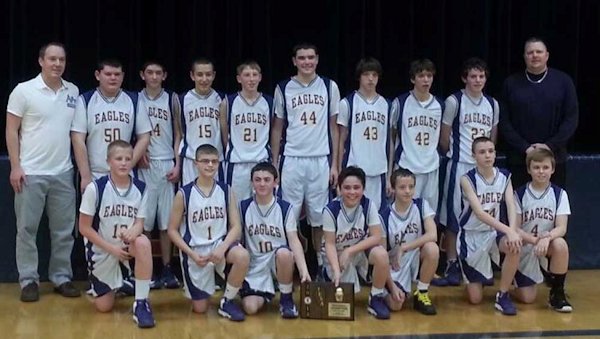 LaHarpe/Dallas City 8th Grade won regionals 1-31-13 at Carthage.
back row: Coach Ryan Hopper, Chris Howard, Aden Trout, Cale Hartrick, Dugan Thompson, Brady Adkisson, Cory Squier, Joe Nicol, Brandon Buttz, Coach Matt Melvin front row: Jackson Porter, Austin Torrence, Colby Claassen, Johan Burt, Kevin Oliver, Dalton Melvin, Josh Forbes.
---