The Hancock-Henderson Quill, Inc.
---
Medals Presented to Viet Nam Veteran
-by Christy Kienast, The Quill
Over forty years after being drafted for the Vietnam War, Ivan Nichols or "Nick", as most people know him, was awarded his service medals on Thursday, January 31, 2013; his 66th birthday!
Friends and family gathered at the Eagles Club in Burlington, Iowa to watch as Nichols from La Harpe, was awarded his medals presented to him by U.S. Representative Dave Loebsack, D-2nd District and given to him by his sister, Angie Nichols. His wife, Betty Nichols was too ill to attend.
Loebsack, in a short speech before the presentation, said. "It's an honor to be here today. This part is one of my favorite things to do. To give people their awards who never got them."
"I have seen a maturing process in the United States in the last 10 years."
Loebsack feels the nation has a much greater appreciation for military men and women since 9/11, although he acknowledges the United States has not always done right by its veterans of previous wars, especially the Vietnam War and the Korean Conflict. He said, "More will be necessary if the country is to support veterans from the wars in Afghanistan and Iraq."
Loebsack presented Mr. Nichols with 6 ribbons and medals for his service in the Vietnam War. They are: National Defense Service Medal, Vietnam Service Medal, Sharp Shooter Badge with rifle bar and auto-rifle bar, Republic of Vietnam Campaign Ribbon with device, NCO Professional development ribbon and Numeral 1 and Army Service Ribbon.
Nichols said, "I am honored to accept these today. It was a great honor to serve this great nation, and I know there are others out there looking at me still doing it today. And please God, keep America free!"
Nichols didn't know he had medals coming to him and credits Loebsack for getting him the honors.
Family members in the audience said it was an honor to watch such a nice and caring man be honored in such a way.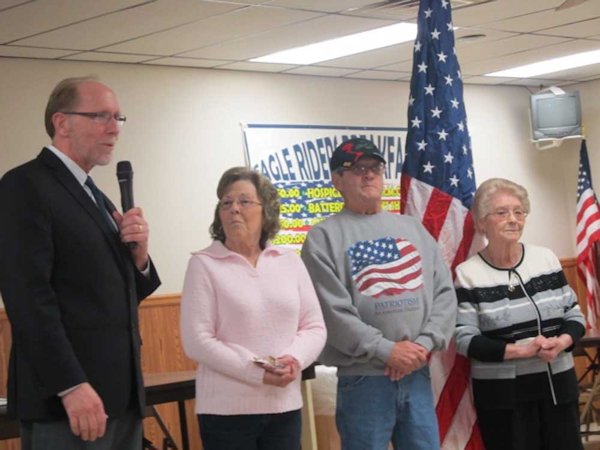 Iowa Senator David Loebsack presents Viet Nam veteran Ivan Nichols of La Harpe, long-overdue medals in a ceremony in Iowa Thursday.
---