The Hancock-Henderson Quill, Inc.
---
Scout Sunday Celebrated
Scouts from Boy Scout Troop 61 and Cub Scout Pack 60 and 61 celebrated Scout Sunday serving as greeters and ushers at the Oquawka United Methodist Church.
After the service cake, punch and coffee was served to the congregation as a thank you for being Troop 61 and Pack 61's Charter Organization since 1987.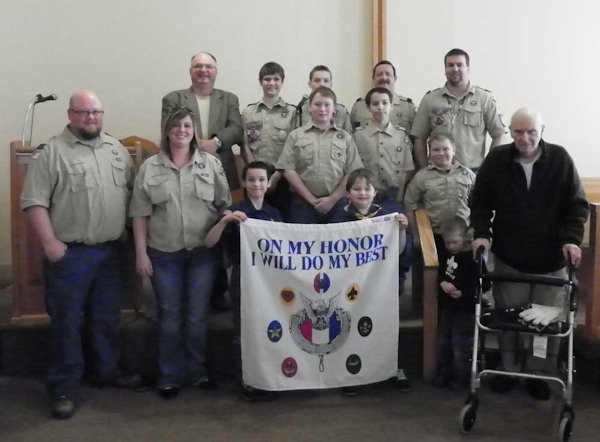 Front row: Assistant Scoutmaster Jason Guyton, Shoquoquon District Committee Member Amanda Guyton, Cub Scouts Connor Moede (Pack 60) Mikhail West (Pack 61), Troop 61's honorary Scout Graham Kelly and Charter Organization Representative Al Livingston. Middle row: Boy Scout Troop 61 Scouts Dalton Spiker and Parker Moede and Cub Scout Dylan Spiker (Pack 60).
Back row: Committee Chair of Troop 61 Pastor Jeff Robbins, Boy Scouts Troop 61 Hunter West, Owen Miller, Troop 61 Committee Member Steve Moede and Assistant Scoutmaster BJ Kelly.
---