The Hancock-Henderson Quill, Inc.
---
Meet Your Neighbor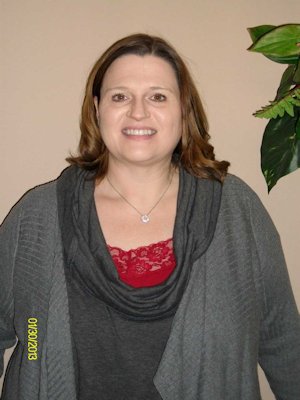 Meet your neighbor, Angie Cozadd, the new Administrator at Oak Lane Nursing and Rehab.
She was born on May 11, 1970. Angie is a Rushville native, and now lives in Macomb with her family.
Angie and her husband Jeff will be married 20 years this May. They plan on traveling, possibly to Mexico to celebrate. Together they have two children, Brody, who is 16 years old, and Ellie, who is 3. Brody attends Macomb High School and is a very active athlete. He is on the football and baseball teams.
Angie's parents are Vickie and Jerry Bratcher, of Macomb. Her dad is a U.S. Vietnam Veteran. He sold insurance. Her mom came from a farm family and worked as an in home care provider to seniors as a CNA. They are both retired.
She has one sister, Amanda (Tod) Regnier of Deercreek, near Peoria. Amanda is employed through Medlab as a regional account manager. She does a lot of traveling with her job. Medlab provides lab services to senior housing facilities. Amanda has been with them for the past 10 years.
The late Kenneth and Esther Huffman were Angie's grandparents. They were farmers from Schuyler County.
Angie graduated from Rushville High School. She went on to college in Macomb at Western Illinois University. She double majored in law enforcement and sociology, with a minor in english. She graduated in 1993. During college, she kept herself busy with classes and worked at Bridgeway, where she met her husband Jeff.
Before taking the administrator position at Oak Lane, Angie has had many years of management experience. She worked as a department of aging elder abuse case worker right out of college for 5 years. She was then employed by Bickford Senior Living for 10 years, and served in the roles of Burlington and Macomb administrator as well as a divisional manager over Illinois and Indiana.
When asked about her hobbies, she said "I remember when I had those. Now my kids' sports are my full time job." She wouldn't have it any other way. Her and her husband Jeff love attending ball games and watching their son grow as an athlete. In her spare time, Angie loves to read a wide variety of books, from history to fiction. She attends The Crossing in Macomb.
She is an avid Chicago Bears fan, while her husband roots for the Denver Broncos. The whole family is Cincinnati Reds fans though. She said "Our kids are Bears and Reds fans, but not Broncos fans."
Her and her husband enjoy taking the kids to see the Bears and the Reds play.
The Cozadd family loves traveling to Mexico. They try to go once a year, if not more. Last June was the first time they took Ellie to see the beautiful scenery in Mexico. They always look forward to their next visit.
When asked about her future plans, she responded, "I see myself here (at Oak Lane), finishing out my career and raising my kids."
She has enjoyed being at Oak Lane thus far and looks forward to what the future brings. "I've been very welcome here, I think there is a big opportunity for growth. The teamwork here is great."
---