The Hancock-Henderson Quill, Inc.
---
Take "The Quill" Along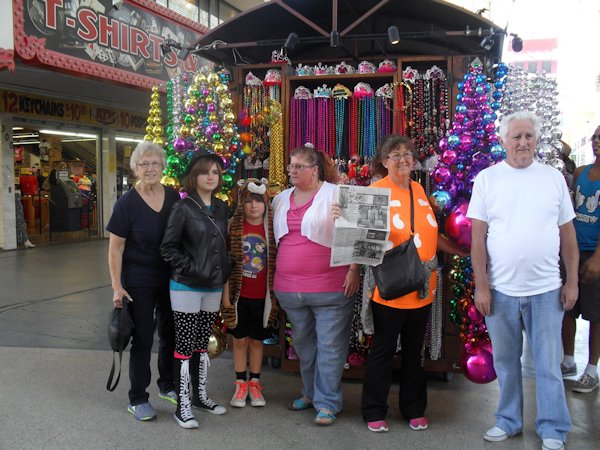 The Quill traveled with Laurie Magee, her parents, and aunt of Raritan, on their trip to "VEGAS"! "It was my first time flying," Laurie said, "and I was a nervous wreck!"
The next day, the three met a cousin and her children and enjoyed the downtown excited of Fremont Street. "We saw the lazer light show, lots of "professional" type actors, I use this term loosely, and lots of "pan handler Petes" as I call them (scammers)," she said. Pictured on Fremont Street are Deanna Truelove, Breanna, Sean and Carrie Hernandez, and Laurie with "The Quill" and Don Frye. (not pictured is Jo Frye).
They also traveled to the famous Pawn Stars Shop, but didn't get to see them, saw some pretty awesome night lights, found the bus rides were very interesting and funny, rode rides in the Amusement Park in Circus Circus. Laurie gambled some, and lost it all, but again, that's Las Vegas.
Whenever you go on a trip, take "The Quill" along, have your picture taken with it, and then send it to us. Let's see where all "The Quill" can travel.
---