The Hancock-Henderson Quill, Inc.
---
Meet Your Neighbor
by Susan Galbraith, The Quill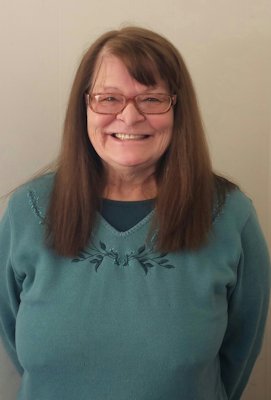 Meet your neighbor Jean Faudree of rural Stronghurst, born in Carthage and raised in Olena.
Jean is currently employed at Fishers Food Center in Stronghurst, part-time, and previously was employed as a Nurse's Aid at LaMoine Nursing Home in Roseville.
Her parents are Don and Rena McIntyre, both deceased.
Grandparents Ralph and Eva McIntyre and Arthur and Olive Walton are all deceased.
She and hubby, Blaine, have been married 31 years. Blaine is employed at Bob's TV in Strong-hurst.
Blaine's sister-in-law is Renee Spence and Sally and (Barry) Bishop and a brother-in-law Roy Faudree.
Their children are Jeanette Guzman and Tisha (Danny) Anderson.
She and Blaine have 7 grandchildren: Tisha Inman, Linda (Ory) Hammon, Heather McBride, Brian McBride, Amria, Kory and Matt Kinsett, and David Guzman.
Jean said, "I am very happy to say three of my grandchildren serve in the military. They are Linda, Ory and Matt."
Siblings are Debra (Jerry) Spiker of Stronghurst. Debra is custodian at West Central High School and husband, Jerry, recently retired. after 41 years, from West Central School District;
Rodney (Amy) McIntyre of Olena. Rodney is retired from the Burlington Northern Santa Fe Railroad and Amy is a CNA and works in home health care;
Donnie and (Kelly) McIntyre of Ft. Madison, IA;
Bobby and (Barb) McIntyre who live in Stronghurst. Bobby is a factory worker in Aledo and Barb is a CNA at La Moine in Roseville; and
Mark McIntyre who lives in Burlington, IA and is a Des Moines County Deputy Sheriff in Burlington. His wife, Valerie, is deceased.
Jean has numerous nieces and nephews.
She attended Stronghurst High School and earned her GED at Southeastern Community College in West Burlington, IA and is a licensed practical nurse.
While in high school Jean was very active in 4-H.
She is of the Methodist faith.
Her hobbies are reading, doing crossword and jigsaw puzzles and watching "some" sports with Blaine.
A family tradition is going to Tinkman's and cutting their Christmas tree down. They also enjoy going to Fun City on their anniversary.
Their vacations are spent attending NASCAR races in Michigan.
---