The Hancock-Henderson Quill, Inc.
---
Meet Your Neighbor
By Christy Kienast, The Quill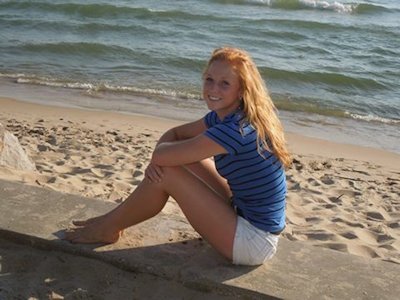 Meet your neighbor and Illini West Senior Mary Grace "Gracie" Bastert, born on December 24, 1995 at Carthage Memorial Hospital, the daughter of Tami and Andy Bastert of Carthage.
Andy is President of the Western Illinois Region of First State Bank of Illinois in the Corporate office in La Harpe and Tami is a teacher in Mendon.
Gracie is the youngest of 4 children. Megan, 26, is the oldest of the 4 and lives in Quincy with her two year old daughter, Zoey. She works for Manpower in Hannibal, Missouri.
Katelyn, 24, recently received her Masters from Duke University and is considering pursuing her doctorate in Psychology. In the meantime, she works at Cameron Stadium and lives in Durham, North Carolina.
Jack, 19, is in his second year of college at John Wood Community College in Quincy where he lives and is currently undecided on his major and is working at the Hy-Vee on Broadway.
Gracie's grandparents are John and Marj Bastert and Janis and the late Harry Elbe. John and Marj live on a farm outside of Camp Point. John is a retired farmer and Marj is a homemaker.
Harry and Janis lived in Camp Point as well. Harry was a high school basketball coach and a car dealer. Janis was a speech therapist. Now Janis and her second husband, Gene Siebers live in Quincy.
Gracie works at the Carthage Middle School as a secretary's assistant. It is a Co-op job, so she gets to work there during classes. During the past summer, she was a lifeguard for the Macomb Country Club and also worked at Hardee's in Carthage.
Gracie's favorite vacation was to San Diego, California with her family. It was December and the ocean was still warm enough to swim in.
She has been involved in volleyball, basketball, track and is the secretary for S.A.D.D. (Students Against Destructive Decisions).
She has been on the high honor roll during her entire high school career. She has been inducted into the National Honor Society and has been All Conference in basketball since her freshman year.
Gracie has enjoyed a lot of her high school memories but some of her favorite would have to include winning regionals in basketball and volleyball and also Senior Homecoming week and weekend was an awesome time.
She enjoys spending time with her niece, Zoey, and her friends. She also likes to swim and be outdoors.
Gracie will graduate in May 2014 from Illini West High school, and while she plans to attend college somewhere, she is undecided as of now where.
---