The Hancock-Henderson Quill, Inc.
---
Meet Your Neighbor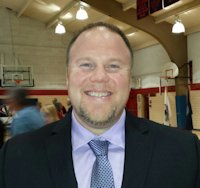 Mr. Chris Conlee, the Assistant Principal of West Central Middle School in Stronghurst.
Chris was born and raised in Peoria and now lives with his family, in Stronghurst.
He was married August of 2000 to his wife Stacy who is a teacher at the new Edward Stone Middle School in Burlington, Iowa. The couple have a 4 year old daughter named Jade.
Chris's parents are Randy Conlee and Rae Lynn Williams. His father runs a sports memorabilia store in Peoria, and his mother works at Methodist Medical Center in Peoria.
He has a sister Kellie, who lives in St. Louis, MO.
His grandparents are all deceased.
Chris graduated from Metamora Township High School where he played football, basketball, and baseball. After graduation, he spent 4 years serving his country in the U.S. Army.
After his honorable discharge from the Army, Chris attended college and earned his bachelors degree from the University of Illinois at Urbana-Champaign in Kinesiology, and then obtained his Master's Degree from Eastern Illinois University in Educational Administration.
Chris spent the last seven years teaching Physical Education and Health classes at Ludlow C.C.S.D. #142. He was also the Athletic Director there as well as their Dean of Students.
Chris's hobbies are spending time with his family, watching and playing his favorite sports, and listening to music.
He says, "I am a die-hard Fighting Illini, St. Louis Cardinals, and Chicago Bears fan!"
As a die-hard St. Louis Cardinal fan, some of their special family vacations include going to Jupiter, Florida to watch the St. Louis Cardinals play in the Grapefruit League where they usually are able to see 3 or 4 Cardinals games during the week they go in the Spring.
Chris's future plans are to continue working for the West Central School District in Administration and be able to have their daughter Jade go through school at West Central as well.
---