The Hancock-Henderson Quill, Inc.
---
40 Years Of Service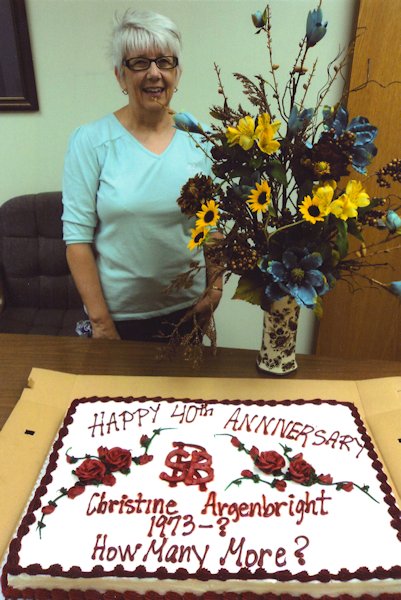 The Raritan State Bank staff and directors were happy to help Christine Argenbright celebrate her 40th anniversary of employment at the bank.
She was surprised with a cake by her husband and a bouquet of flowers from her co-workers.
Christine (Arnold) Argenbright joined the Raritan State Bank family in August 1973. She has worked in data processing, processing loans and tracking insurance, bank reports, and preparing documents for the annual meetings.
Chris is the Senior Administrative Assistant and has been for many of these years. Among many other responsibilities she is also responsible for daily operations of the information technology area.
The bank appreciates her years of dedicated, loyal, and friendly service to the customers at Raritan State Bank and at Abingdon Banking Center and Bushnell Banking Center. She is a great example of their motto, "The Bank of Friendly Service".
Chris and her husband, Terry, live east of Blandinsville in a home they built in 1995, doing much of the work themselves.
---