The Hancock-Henderson Quill, Inc.
---
Meet Your Neighbor
by Christy Kienast - The Quill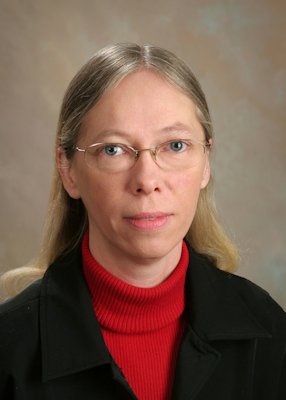 Meet your neighbor Denise Thompson of La Harpe.
Denise is the daughter of Dean and Darlene Bennett of La Harpe.
Denise was born at the La Harpe Hospital and has lived in the La Harpe area all of her life.
She grew up on farm near Durham until she was in the second grade and then the family moved to Fountain Green.
Denise lived there until she moved to her grandma's house in La Harpe where she has lived for 33 years.
Denise graduated from the La Harpe High school in 1979 and then from Robert Morris College in Carthage with a Certificate of Secretarial Studies.
She married Eric Thompson in 1982 at the La Harpe Christian Church.
Eric grew up in Blandinsville in a house on the corner of the park. Denise and Eric just celebrated their 31st anniversary this year.
Her father Dean, was born and raised in La Harpe and is a retired farmer. Her mother, Darlene, is a retired registered nurse. Dean and Darlene will celebrate their 55th anniversary this September.
She has one older brother, Mike Bennett of La Harpe. Mike and his wife Hilary celebrated their 31st anniversary this year. They have one daughter, Kayla Taylor. Kayla lives in Hamilton with her husband Jamie and daughter Abigail.
Denise and Eric have two sons, Bart and Cole.
Bart will turn 30 in September and lives in La Harpe with his wife, Lacie and daughter, Charlotte. The couple is expecting their second child on September 20th.
Their son, Bart, works as an auto technician at Palmer's Service in La Harpe and Lacie works as a medical technologist at Great River Medical Center in West Burlington, Iowa.
Their son, Cole, is 23 and lives at home. He works as a conductor for the Burlington Junction Railway.
Denise works at First State Bank in La Harpe as the Director of Human Resources for the last 6 years. Previously, she worked at Midwest One Bank in Burlington Iowa for 26 years.
In her spare time, she enjoys watching birds and squirrels, planting flowers and reading in the winter. She is a member of the La Harpe Historical Society and the La Harpe Christian Church.
---