The Hancock-Henderson Quill, Inc.
---
Meet Your Neighbor
By Joyce Wolf, The Quill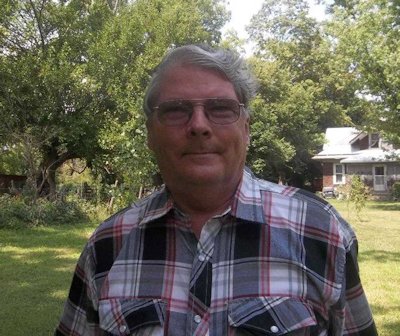 Meet your neighbor, Dwight W. Sargent. He was born in the old Monmouth hospital and lives on the family home place that has been in the family since 1855, north of Biggsville.
Although their home is located in Henderson County, they do have a Kirkwood address.
Dwight's ancestors settled in Maine when they came to this country from England (just in time for the war).
Dwight's great great grandfather Charles Sargent (born in 1789) died in 1885 and is buried at Reed Cemetery. He and his family (wife Isabell Campbell) left Old York, Maine with his brother Theodore and family after they fought in the war of 1812.
In 1818 the government gave a quarter section of land in Illinois to the veterans of that war for the purpose of settling the prairie lands. Theodore received a place near Farmington and both families settled there in 1818.
The land here was still primarily populated by Indians and it was a hostile land so it was in 1935 when Charles and his family moved to Henderson County.
Dwight's parents were William Dwight and Mary Meyer Sargent and they are related to "all the Meyers, Zielkes and Robbins in the county".
W. Dwight's parents were Olin and Maude Hartgrove Sargent and Mary was raised by her grandparents Henry and Bertha Meyer.
Dwight W. has one sister, Mary Anne (Randy) Crum and they live on the Hartgrove place over the bluff on Henderson Creek (Rural Route, Oquawka).
Dwight W. met his wife, Marilyn Doole, when her family moved to this area from Roseville. They went to school together and their dads were best friends.
Dwight went four years to the Hazel Dell School on route 164 until they consolidated and he graduated from Biggsville High School in 1960 and has baled hay and raised stock cattle since then.
His was the last class to graduate from Biggsville, as the Union School was then built on route 34 west of Biggsville.
At home growing up he remembers 500 chickens a year for several years purchased at the Nichols Hatchery in Monmouth. They had 200 for laying eggs and grew the other 300 to butcher. They ate a lot of chicken and sold dressed chickens and they sold eggs and at the Hamilton Market in Oquawka.
They had three milk cows and had plenty of milk and cream. They sold the extra at the Hamilton Market also, but they made butter and the homemade ice cream was a favorite memory.
Gathering eggs and milking twice a day kept the whole family busy but they found time every summer to take a weeks vacation and traveled to many different locations.
Dwight remembers one of his first 'off the farm' jobs-he worked at the Christmas Tree Farm near Oquawka and they planted 5000 trees. Two men and a Ford tractor with an attachment on the back could plant all day - and they did.
From 1968 to 1988 he worked at the Ford Garage in Monmouth, then went to Keisters until retiring in 2004.
Today, on the farm, they have ten beef cows and raise calves every year. Two of their cows were bottle calves when they were little and they still have that attachment or memory (they recognize the bottle!)
They also have a half coon hound half black Labrador named Tipper, three cats and one big red horse named Cheyenne.
Dwight and Marilyn have two children. Byron who works on the farm with his parents and Marian is married to Steve Ingles who works at Pella in Macomb. Marian works at Raes Place in Monmouth.
They have two granddaughters, Morgan who is twenty two and works at a nursing home in Burlington, IA and Alexandra, ten is in fourth grade this fall at West Central.
Since 1990 Dwight and Marilyn have taken a trip to Colorado almost every year with friends, David and Elizabeth Hays. Last year Guernsey, Wyoming on the North Platte River was their destination. From there they went south to the mountains in Colorado.
They really enjoy getting 'off the beaten path' away from the tourist areas and exploring the back roads.
Dwight remembers one time in September there was an early snow storm that surprised them and the road became very treacherous. They were at the top and got out of the car to walk down to see if the road ahead was passable. They made the decision to go for it and went very slowly until they got on dry ground, and they made it down. It was in Imagine Pass near Telluride Colorado. Most of their memories from the mountains are very good and they hope to go again soon.
Dwight enjoys all machinery and farm implements, but old tractors have always held a special interest for him. He has owned quite a few through the years and still has two very special ones. They attend tractor shows throughout the area, of which there are several in the coming fall of the year.
Dwight and Marilyn belong to the Rozetta Baptist Church. His mother, Mary, taught the little children in the back room of the Rozetta Baptist Church on Sunday mornings for several years.
Dwight was a deacon a few years ago and has grown through attending many Bible studies at the church. The Power of Prayer has gotten him through many trials in his life.
He has suffered a broken back, knee replacement, shoulder replacement and other medical problems and his strength to endure has come from the Lord. And the future is in His hands too.
---