The Hancock-Henderson Quill, Inc.
---
Meet Your Neighbor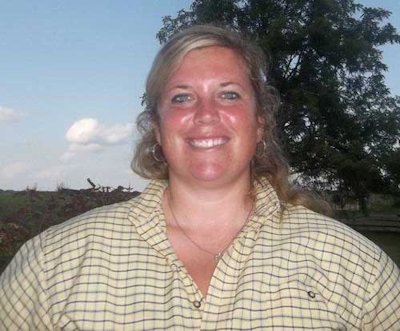 Meet your neighbor Lynne Marie Gittings.
Her parents are Russ and Connie Hoffman who live on a farm near Scranton, Iowa.
Connie's parents are Howard and Pat Drees who live in Carroll, Iowa and Russ's parents are deceased. Howard has his own plumbing and heating business and Pat is a real estate agent and they live in Carroll, Iowa.
Russ has been a deputy with the Greene County Sheriffs office for twenty-nine years. Connie is a fourth grade teacher at the elementary school.
Lynne and her younger sister and brother didn't have Mom for a teacher because she started teaching after they were out of grade school.
Her sister, Larie, is a nurse and head coordinator at a nursing home. She is married to Charlie Brokaw and they have three children: Wiley, Brody and Grace.
Lynne's brother, Cole is a deputy sheriff in Boone County, Iowa.
Lynne was born in Carroll and grew up in Scranton. She went from Scranton grade school to Jefferson-Scranton High School graduating in 2000.
She enjoyed school and was an officer in F.F.A. for four years, and all through school she participated in 4-H shows. In high school she also played volleyball, basketball (Iowa 6 on 6) and ran the 4x1 in track, and threw the shot-put and discus. Her favorite sport was softball where she lettered all four years.
She earned a degree in Agriculture Business at Southwestern Community College and a Bachelor degree in Animal Science at Northwest Missouri State in Maryville, Missouri.
While at Southwestern, she worked at the school farm and was an officer in the Agriculture Club. She was on the livestock judging team.
Lynne met her husband Darrell through their mutual interest in livestock and animal science. I didn't get the whole story, but I think they were in a competition of some sort, and I never heard the outcome of that, but they did get together!
They were married in Jefferson, Iowa in 2005 and honeymooned in Jamaica.
They have two children. Dayne, who is seven and in second grade at West Central Elementary and Ruby will be six on September fourth and will go to kindergarten this fall.
Lynne worked at the Small World Day Care in Stronghurst for two years while Dayne and Ruby were younger and has now been the Deputy Clerk in the assessors office at the Henderson County Courthouse in Oquawka for three months.
On their 136 year old farm just south of Stronghurst they raise boer goats, cattle, chickens and ducks. The farm was established 136 years ago by a Sanderson and it predates the village of Stronghurst. The family also has two dogs and now a new red heeler puppy.
The whole family helps with the livestock and they go to fairs and competitions in Henderson, Warren, Knox and Mercer Counties, and the Iowa State Fair. They have travelled to Missouri, Nebraska and South Dakota where Lynne and Darrell do livestock judging.
The family attends the Raritan Reformed Church in Raritan.
They have had a fun summer and school will start next week, so they're all getting ready to be on a schedule again.
Dayne and Ruby get to go to school with Dad who is the Ag teacher at West Central.
In the future Lynne looks forward to watching their children succeed in all they work for and just enjoying more of their time together.
---