The Hancock-Henderson Quill, Inc.
---
Car Show Draws Field Of Classics
by Christy Kienast, The Quill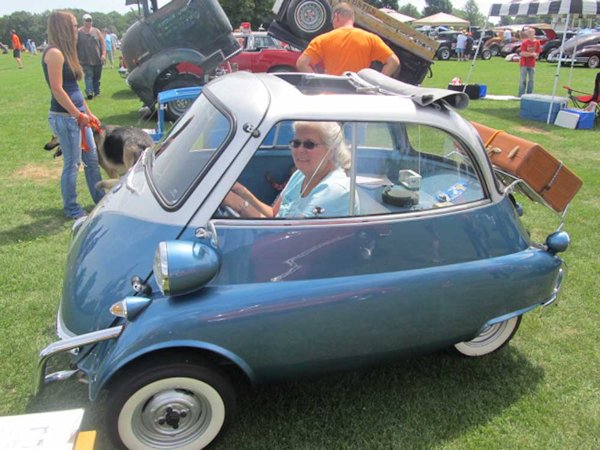 The 15th La Harpe Classic Car Show and Reunion held in La Harpe Saturday, August 3rd drew a number of beautiful classics scattered across the La Harpe Municipal Golf Course.
Opening ceremony began at 10 a.m. with a prayer by Union Church Pastor Bruce Goettsche, with a moment of silence for fallen La Harpe service men, Evan James and Joshua Palmer.
The Nauvoo Bagpipe Band played Amazing Grace, as the Honor Guard and local Boy Scouts raised the flags and Melissa Burt sang the National Anthem. Civil War Re-Enactors fired a cannon during the National Anthem. Veterans who have traveled on the Honor Flight to Washington were asked to stand at the base of the flagpole. Part of the proceeds of the car show will go to the Great River Honor Flights. This year's car show had 304 cars, with 48 classes and they gave away 178 trophies.
There were many wonderful stories of how the owners of their cars found and restored them, but here are just a few. Vicky Cope and her husband, Jim of Orion, brought their 1958 BMW Isetta 300 to the car show this year. This was the 5th time the car has been shown. Vicky's father, William â"Bill" Ryner started the restoration of the car in 2003, when he bought it from a set of twins from Minnesota who used to double date in it, they drove it until 1966 when it broke down and they tore it apart to restore it. They then sold it to Bill. When he got it all there was was the chassis, body and all of the parts were in 14 boxes, all to be put back together.
The car was â"Dad's Dream Car". He absolutely loved that car. The â"Little Car" as it is called was finished this year, a year and a half after Bill passed away. Vicky and Jim finished the car in memory of Bill. So, when it was done, Vicky and Jim gave the car to Vicky's mother, BJ Ryner for her 80th birthday in May of 2013. And what a surprise it was.
The original color of the car was cream. It was recently painted, the colors Ocean Pacific Blue Metallic and Metallic Silver, were picked by Bill. He and Vicky were in Milan one day and they had just repainted the old Milan Maidrite and Bill said, â"That's it, those are the colors I want the little car." The family has a small model of the car that Bill used to carry around so he could show everyone his car. It was painted the same colors.
A few little facts on the Isetta are it is a US export, the car was $1295 brand new. They were made in Germany from 1956-1963. The cars in Germany have 3 wheels and turn signals on the side, which are not legal to drive in the United States. Without the wheels it can fit into the back of a full size Dodge short bed pickup truck. Its top speed is 53 mph and it gets 63 mpg. Steve Erkel drove a red and white one in the television show Family Matters.
Marge Sammons of Macomb bought her 1957 Ford Thunderbird in Greenville, South Carolina on her way to Florida for vacation. The car had been in an auction that didn't sell, and they bought it after giving them an offer. The original color is Dusk Rose and it has 82,000 miles on it. Marge is the 3rd owner, it cost $3500 brand new, today if it got wrecked the back fender alone would be $4500.
Paul Klein of Ferris is the owner of a 1923 Ford T-Roadster. He first seen a roadster in 1966 at the Kahoka, Missouri drag strip and he copied his after that and completed it in 1978. The Roadster has an eight track player that plays good and plays Elvis. Klein tore down and powder coated the frame and rear end last year.
Ken Brown said, â"It was a super show and a great day! We sold a lot of t-shirts and just had a wonderful turnout."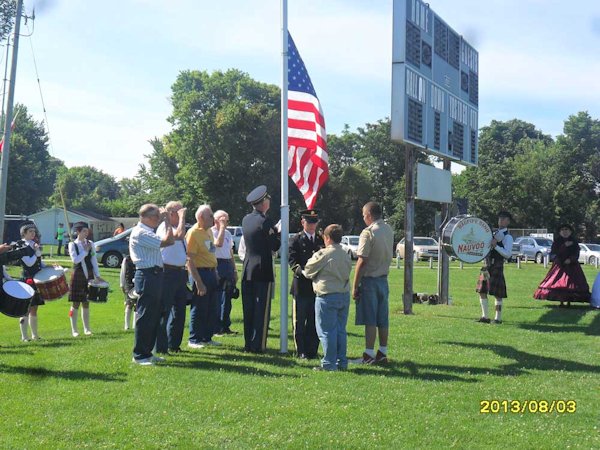 Honor Flight Vets salute as the flag is raised by the Honor Guard at Opening Ceremonies.
Mayor Brown presents the Nauvoo Bagpipe Band with a plaque of recognition.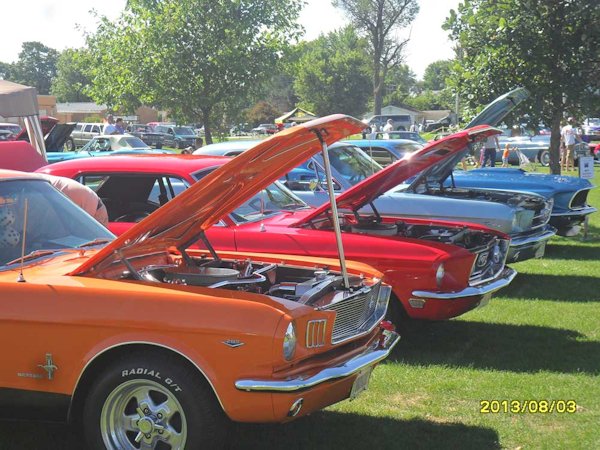 Line of Ford Mustangs at 2013 La Harpe Classic Car Show Reunion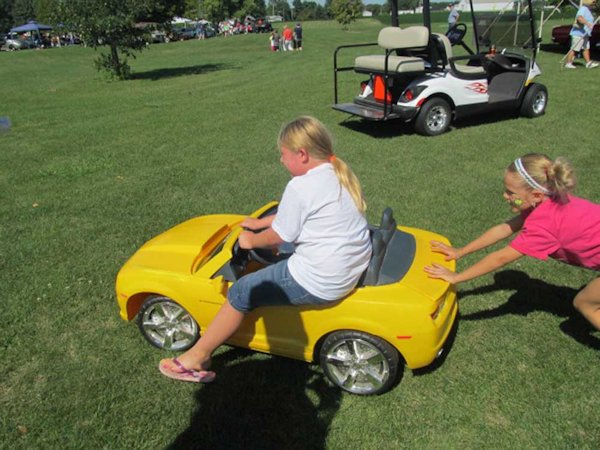 Even the young ones have car trouble! Laney Brown pushing Lily Lionberger
---