The Hancock-Henderson Quill, Inc.
---
Meet Your Neighbor
By Joyce Wolf, The Quill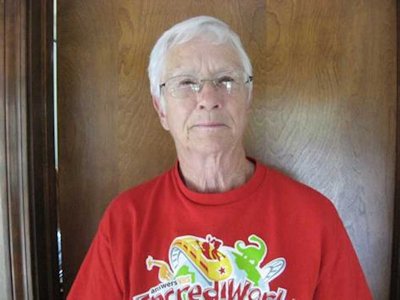 Meet your neighbor, Susan Bates, born in Keokuk, Iowa and grew up in Burlington, IA.
Her parents were Harry and Jane Hesser (that's a good German name.) Harry's parents were Frank and Ann Hesser from Waterloo, IA and Jane's parents were John and Vivion Arnold. Grandpa and Grandma Arnold had farmed just off the Carman Blacktop in Illinois. They are all deceased.
Sue's older sister Judy McNeill lives in New London, Iowa and has three daughters: Shannon, Anne and Kris. Sue's younger sister, Becky Robertson is deceased and her children are Amy and Mike.
Sue has a son Mark Delabar who lives in Des Moines, IA and her daughter Sarah is deceased.
Sarah's two children are Cody Curry in Collinsville, and Caleb Curry in Carlisle. Cody has Sue's great grandson Gavin, who is two and a half. Her only job while in school was babysitting in her free time and she enjoyed school but admits she probably had more fun than she was supposed to in school!
Sue graduated from Burlington High School in 1959 and remembers the Spider Web in downtown Burlington was a favorite place for all the kids to dance and hear their music.
It is no longer there, so she wonders if Burlington has another place available for fun and get-togethers for the kids.
There were two hundred fifty students in Sue's graduating class and one member sends a newsletter via email every month with news from any classmember who sends her information.
The class (whoever can come), also meets once a month at the Burlington Boat Club. They are a very active -stay in touch- group!
After graduation, Sue worked for awhile at Winegard in Burlington then she attended Carl Sandburg College for two years.
She worked as a Clerk in the Oquawka Post Office in Oquawka for ten years, then transferred to the Gladstone Post Office as Postmaster for twenty years. That is where she met her husband David Bates.
David came in to buy stamps and met his future wife! They were married at the Gladstone United Methodist Church and they now live just off the Keithsburg blacktop north of Oquawka.
David and Sue are really enjoying their retirement. They have a thirty six foot fifth-wheel travel trailer and they mostly don't spend their winters in Illinois.
Texas and Arizona are favorite warm weather places, and in the summer, the mountains are a popular place: Colorado Rockies, Wyoming, Yellowstone and The Tetons, and this summer they spent some time in the Glacier National Park in Montana. Last year they went east and visited Gettysburg to learn a little United States history. Their family has a camping reunion every year with the cousins and children. As they get older it is harder to get everyone there, but they usually have a very good group. The farthest comes from Michigan. For her sixty-eighth birthday Sue did something not all are brave enough to do. She jumped out of an airplane in "Skydive" Eloy, Arizona when it was 13,000 feet above the ground and they pulled the chute at 5,000! It was a tandem jump - that means you have a twenty-seven year old expert strapped to you. And she just loved it. David and Sue took Texas Two Step dancing lessons and they really enjoy that. Some of those campgrounds have that entertainment feature.. Sue belongs to the Tromp as Writ weavers club and enjoys sharing what she has learned and created. She also does quilting, and has helped with Vacation Bible School at their church, Rozetta Baptist in Rozetta Township. Their future includes more travel and they have a seven year old wirehaired fox terrier named Isaac who travels with them.
---