The Hancock-Henderson Quill, Inc.
---
Meet Your Neighbor, Susan Onion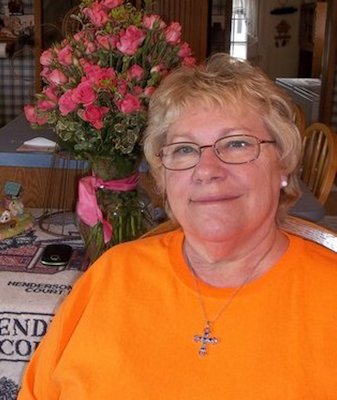 Susan VanTine Onion was born in Quincy and was raised in Monmouth by her adopted parents Percy and Estella VanTine. Susan has always said that Monmouth was the best place to grow up. When Susan was forty-seven years old she had the opportunity to meet five of her seven siblings from the Quincy area. They have kept in contact since then and when Susan was fifty years old she went to North Carolina to see one of the sisters. She had a wonderful childhood with her mother being a teacher at Garfield grade school in Monmouth where Susan attended through sixth grade. She remembers having to call her mother "Mrs VanTine' because it was a sign of respect. On the last day of sixth grade she got permission from the principal to call her mom "Mom', and her Mom was really surprised!! Her mother taught for 47 years.
Her father was a professional interior/exterior decorator and worked for Leonard Johnson at the Johnson Paint Store in Monmouth. The home where she grew up was on north sixth street in Monmouth and the property is now a part of the Monmouth College campus. There have been many changes in her neighborhood.
Her grandparents were Howard and Henrietta VanTine who planted the orchard which is still there on south eleventh street in Monmouth. Her Mom grew up on a farm near Alexis the daughter of John (who was a horse trainer) and Rosa McKeague. Susan graduated from Monmouth High School in 1964 and then attended the Burlington Beauty Academy and had some classes at Carl Sandburg College in Galesburg.
She met her husband Bob at the Rainbow Roller Rink when they were both sixteen. Susan always loved skating and was a member of the traveling skating team. Susan and Bob started going steady when they were seniors in high school. They have been married forty-eight years and have moved several times but have lived in Biggsville for thirty-four years. They also lived in Swedona for five years and Aurora where they were youth directors at the Grace Lutheran Church for ten years. Susan worked at the Pizza Hut there for those ten years. They lived in Bueno Park near Anaheim, California and took in all the sights there. It was near Disneyland and Knotts Berry Farm. They moved back to Illinois in 1977 and lived in the country near Rozetta on a farm owned by Jim Carner. Susan cooked at the Soda Works Restaurant and the Monmouth Country Club. She really enjoys cooking and baking and her kitchen and home are very comfortable and inviting.
The Onions were blessed with three daughters. Vicki Toney (Bill McMahon) lives in Little York and has two sons, Quinton and Nicholas and two daughters, Sasha and Breanna, and three granddaughters, Tracey, Camryn and Rylyn. They are expecting another grandchild soon which will make Susan and Bob great grandparents to four!
Jackie (Tom) Sanders live at rural route Biggsville and have two daughters. Seahairra works in Burlington, IA and Charity will graduate from West Central this year.
Their youngest Kristina (Andy) VanWinkle lives at rural route Kirkwood and has three sons, Noah and Isaiah attend West Central and Eli is at home.
Susan and Bob attend the Rozetta Baptist Church and have recently been hired as the church custodians. They take care of the weekly cleaning and preparations for special activities at the church. Bob is a past deacon of the church and Susan is a member of the fellowship committee and is hosting a Bible Study in their home currently. They are also major NASCAR fans. They have traveled to attend many races and they collect 1/24 scale Nascar model cars.
When the girls were younger the family really enjoyed vacations. Of course living near Disneyland was a real treat, but they also had some unforgettable camping trips. They all love the outdoors and took advantage of the recreation available at the many state parks in the area. They especially enjoyed the area near Blue Eye, Missouri. It is also Blue Eye, Arkansas because it is on the border. They were on their way to Eureka Springs, Arkansas when they camped at the J & J Dude ranch. Susan has ridden horses since she was five years old on her grandpa and grandmas farm near Alexis, but their girls learned to ride at J & J and loved it. Bob and Susan have been to all but four of the United States. When they traveled to Niagara Falls they also went to eleven New England states and Quebec and Ontario Canada. When they visited Mackinaw Island, Michigan they crossed over to Ontario also. In the future they would love to go to Ireland and/or the Holy Land. The four states they haven't visited are Washington and Oregon and Alaska and Hawaii. Susan also enjoys reading Christian novels and anything about history.
They both also enjoy working out and swimming at the Y. Susan was baptized Catholic when
she was a baby, then was raised in the First United Presbyterian Church in Monmouth. She married Bob who was a Lutheran, and now attends a Baptist Church. Whatever the "denomination' she knows the Lord puts you where he wants you in your life and she has trusted Him throughout her life. "Your Life is in His Hands"
---