The Hancock-Henderson Quill, Inc.
---
Meet Your Neighbor
by Christy Kienast-The Quill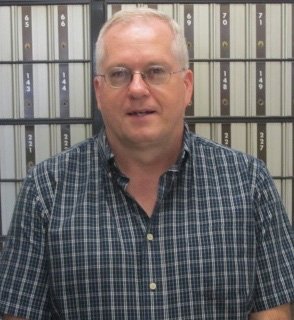 Meet your neighbor Charles (Charlie) Schade of Bushnell.
Charlie is the new Postmaster at the La Harpe Post office.
Charlie has worked with the Postal Service for the last 33 years. He has been the Postmaster for theTable Grove post office for the last 22 years.
He was born in Monmouth and raised in Bushnell. He graduated from Bushnell-Prairie City High School in 1973.
Charlie and his wife Debbie have been married for 37 years.
Debbie grew up in the Macomb/Colchester area. She works for the Department of Rehabilitation services in Galesburg.
They have two children. Jason and his wife Jess live in Bushnell. Their daughter Lisa lives near Ellisville.
Charlie has 5 brothers and sisters who all live in the area.
He is an avid St. Louis Cardinals and Chicago Bears fans. He loves to read and he likes history (local, Lincoln, and Civil War). He is a member of the Gideon's International and Checkrow Community Church.
Charlie is glad to be in the La Harpe community and looks forward to serving and meeting the community.
---