The Hancock-Henderson Quill, Inc.

---
Meet Your Neighbor
By Susan Galbriath, Quill Publisher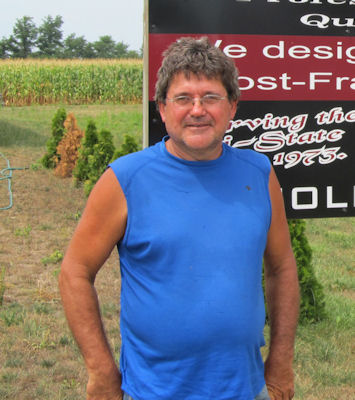 Meet Your Neighbor Don Oleson of Burlington, Iowa. Don is owner of Don Oleson Building Services which he started in 1973 with an office and shop in Gladstone.
He designs, sells, delivers and erects post frame buildings. He works within a 50 mile radius of Fairfield, Iowa to Galesburg and Muscatine, Iowa to Keokuk, Iowa.
Many new buildings in the area were constructed at the hands of Don. He almost always works solo but occasionally barters with another construction company for one of their crew members.
He was previously employed by Morton Buildings for 5 years before starting his own business.
In 1968 he graduated from Jefferson Iowa High School.
He has been married to his bride, Patricia, of 42 years. Patricia is a homemaker.
They have 8 children, Brent who lives in Marion, Iowa and Chairman of the Board for Linn County Supervisors and an attorney; Jeff (Jenny) who lives in Jamestown, North Carolina. Jeff is a computer engineer for Eco/Lab and Jenny is a C.P.A. at North Carolina University at Greensboro; Carrie Oleson (and special friend, Justin Palmer) live in Traverse City, Michigan. Carrie is a professional photographer; Sarah lives in Cedar Rapids, Iowa.
Sarah is a licensed massage therapist at a chiropractic office and presently training to be a chiropractic assistant; Amy who lives in Omaha, Nebraska and is employed by Von Maur; Erin lives in Burlington, Iowa and is employed by Winegard Company; Kevin lives in Burlington, Iowa and is employed as a press operator at Doran/Ward Printing, and Katy is a sophomore at The University of Northern Iowa in Cedar Falls, Iowa.
He and Patricia have 8 grandchildren. Jacob Oleson, Jaimie Oleson, Kennedy Oleson, Quinn Oleson, Jonah Coyle, Kingston Palmer, Liam Palmer, Matthew Morrow. He and Patricia are expecting their 9th grandchild (a baby boy), in October.
His parents are Frank and Dodie Oleson who recently celebrated their 74th anniversary.
Don has one brother, David, (Chris) who live in West Burlington, Iowa. David is in the IT Department at the Iowa Army Ammunition Plant in Middletown, Iowa and Chris is the administrator at Great River Hospice in West Burlington, Iowa.
They are members of St. Mary Patrick Church in West Burlington, Iowa.
Don enjoys working, attending his kids and grandkids activities.
In June of this year, their family vacationed, for a week, in a 21 room beach house in Kitty Hawk, North Carolina, where they made special memories with family.
When asked what he enjoyed most about his work, he said, "Being able to drive by a building and know I constructed it and being able to enjoy flexible time management."
---