The Hancock-Henderson Quill, Inc.
---
It's Charger Homecoming Time!
The 2012 Illini West High School Homecoming festivities will take place the week of September 10th-15th.
This year's homecoming theme is Disney's "Feel the Magic".
The Parade, Pep Rally, and Homecoming football game will all take place on Friday September 14th in Carthage, with the parade starting at the Trinity Lutheran Church at 2:30p.m. Parade participants will need to be lined up by 2:00p.m., the pep rally will follow on the courtyard lawn.
The homecoming football game, against the West Hancock Titans, will take place at Fuzz Berges Field at 7 p.m. and the Illini West Homecoming dance will be Saturday, September 15th in the IWHS gym from 7 p.m. to 10 p.m. Coronation will be held at 9:30 p.m.
Please join us in celebrating another glorious homecoming at Illini West High School.
*If you are interested in submitting a float in the parade please contact the High School Office and let them know the name of your organization so we can include you in our line-up!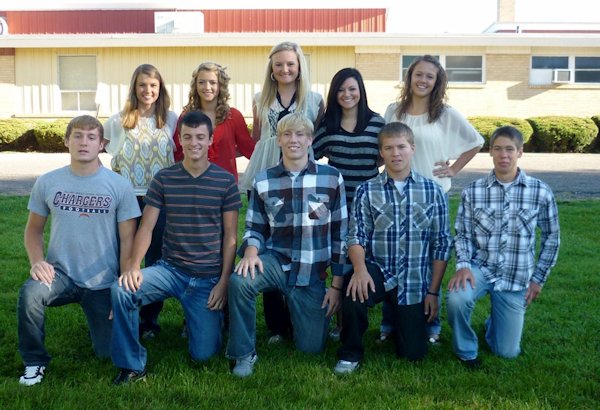 2012 Illini West Homecoming Court
This year's Illini West Homecoming candidates.
Girls, standing from left are: Jessica Fox, Autumn Markley, Leah Pence, Brianna Steinkamp, & Addison Ufkes .. Kneeling are boys, from left: Alex Appel, Brody Gronewold, Ethan Neally, Ben Gittings, & Alex Ourth
---